Purple Sweet Potato Crepe Cake
This beautiful and mouth-watering Purple Sweet Potato Crepe Cake is perfect for this weekend's celebration (Happy Father's Day)  and can be prepped in advance with no baking involved! No other dessert will wow family and friends the way this stunning crepe cake will do. The secret ingredient in this gorgeous purple showstopper is the must have Suncore Foods® Powders and as always, you can achieve any or multiple colors using our abundant assortments of fun & colorful powders.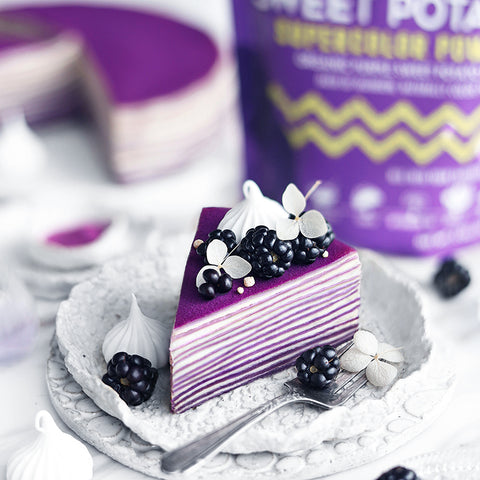 Directions
1. In a large bowl whisk together flour, cornstarch. Add in milk, maple syrup, coconut oil, vanilla and salt. Mix until well combined and smooth.

2. Divide batter in 5 equal portions, add dissolved Suncore Foods® Powders and mix to desired colors.

3. Heat a large pan over medium-high heat. Grease the pan really well with coconut oil.

4. Remove pan from heat. Pour a small ladleful of batter in the pan and swirl the pan around to evenly coat the bottom with the batter. 
Return the pan to heat. Leave to cook until you see the edges start turning brown. Then loosen with a spatula and flip. And cook until spottily brown on the other side.

5. Place the first crepe layer onto serving platter and spread coconut whipped cream between each crepe layer. Refrigerate Crêpe cake for at least 2 hours before serving.
---