Purple Sweet Potato Blueberry Bagels
Here's to a wholesome day of happiness! An amazing morning starts with these beautiful Purple Sweet Potato Blueberry Bagels. Let's color today fun with Suncore Foods® Purple Sweet Potato Powder and add a delicious tangy blueberry taste with our Suncore Foods® Blueberry Puffs! This bagel is the most perfect, pillowy-soft & scrumptious homemade bagel. Nothing is better to start your day than this fresh bagel with your favorite toppings! Rise, shine and conquer the day!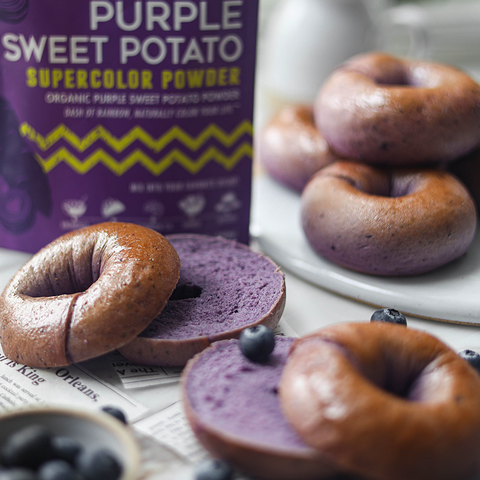 Directions
1. In a stand mixer, add all ingredients and mix to combine and let sit for 20 mins. Then turn on the mixer, mix on low-medium speed with the hook attachment until the dough comes together, about 10-12 mins. Smooth the dough and cover and let rest for 1 hour.

2. Divine dough into 6 equal pieces. Shape the pieces into tight balls, cover and let rest for 20 mins.

3. Roll dough into a rectangle (about 7 inches). Roll up the dough with seams facing down. Pinch seams to seal. Cover and let rise until doubled in size, about 45 mins.

4. Preheat oven to 210c.

5. Water Bath - Fill a large pot with water. Whisk in 3 tbsp sugar. Bring water to a boil, then reduce to medium heat. Drop bagels in, Cook the bagels for 30 seconds on each side.

6. Carefully remove the bagels from the hot water. Place the bagels to a baking sheet 


7. Bake bagels at 210c for 18 mins or until golden brown.
---