Pumpkin & Autumnal Baked Sweet Potato Yam Madeleines
This is the time of the year where pumpkins are abundant and we just love to curl up in a cozy blanket and bake comforting treats such as these fluffy with a crispy crunchy edges madeleine. A comforting fall twist Pumpkin Autumnal Baked Sweet Potato Yam Madeleines by adding Suncore Foods® Autumnal Baked Sweet Potato Yam Powder to achieve the added flavors and colors. Easy to make and are quite festive. Biting into a freshly baked is a lovely memorable experience that will warm you up inside again and again.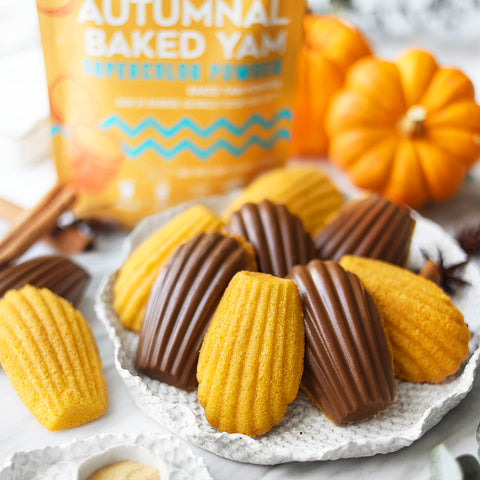 Directions
1. In a large mixing bowl, combine all dry ingredients and set aside.
Whisk together wet ingredients. Then pour wet ingredients to dry. Gently mix until just combined. Refrigerate the batter for 1 hour or until batter is thicken.
2. Brush Madeleine pan with melted butter. Scoop batter into moulds. Bake at 170c preheated 12-15 minutes until edges begin to become a little golden. Allow Madeleines to cool slightly and transfer to a cooling rack to cool completely.
---