Power Pink Pancakes with a Strawberries and Cream Cheese Buttercream
Life is butter with pancakes! Treat your morning a little special with these joyfully delightful pink pancakes with strawberries and cream cheese buttercream. This bright and pretty pink hue can easily lighten up your gloomiest day! Using Suncore Foods® Power Pink Pitaya Pancake & Waffle Mix and Cerise Prickly Pear Powder to create this vibrant, fun pink pancake, and the soft dreamy rosy buttercream are made with Suncore Foods® Pink Pitaya Powder. For the final touch, top it off with some of the freshest strawberries and voila! It's time to elevate your breakfast, try this exquisite recipe. Today's good mood is sponsored by pancakes!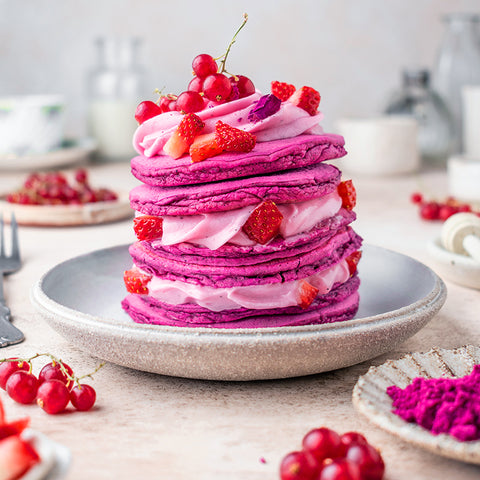 Directions
1. Pancake — Follow Suncore Foods® Power Pink Pitaya Pancake & Waffle Mix package instructions and prepare pancakes. When making the batter, mix in the Supercolor Powder and cardamom.
2. Strawberry and Cream Buttercream — Using an electric beater, beat butter for 1-2 minutes until fluffy. Mix in cream cheese and continue to beat for 2 minutes until creamy. Mix in vanilla extract and well combined. Add sugar ½ cup at a time and continue to beat until the texture is to your preference. For a thicker buttercream, add some more sugar. Using a spatula, fold in strawberries into the buttercream or alternatively, serve strawberries on the side.
3. Assemble Pancake Stack — Place 2 pancakes on a plate and spread a generous amount of buttercream. Continue to stack the pancakes two at a time alternating with the buttercream. Make two stacks and refrigerate any leftover buttercream.
---