Pink Pitaya Red Beet Rose Panna Cotta
We love everything pretty in pink! These Pink Pitaya Red Beet Rose Panna Cottas are the best way to start off this lovely 1st Monday of February. Panna Cotta is one of those sophisticated desserts that's simple enough to make and one of our favorite no-bake desserts—so elegant and will be a crowd pleaser at your next dinner party. Taste like delicious celebration & perfect to give to a loved one this Valentine's Day!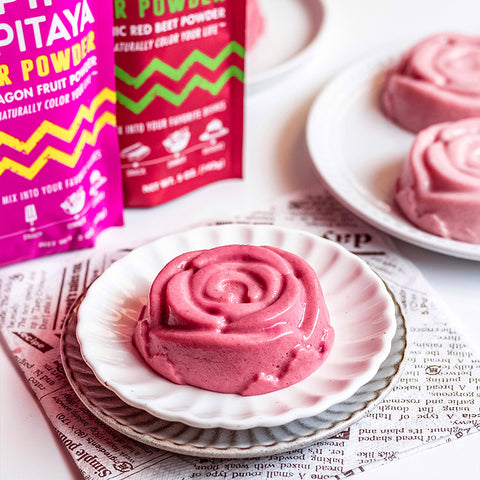 Directions
1. Combine all the above ingredients in a saucepan and bring to a simmer while whisking frequently. Once the agar-agar is dissolved, whisk in 1/2 tsp Suncore Foods® Pink Pitaya Powder. Remove from heat and pour half the mixture into a silicone mold or glass jars of your choice.
2. To the remaining mixture, whisk in 1/2 tsp Suncore Foods® Red Beet Powder and pour into the mold /separate glass jars. Place in the fridge to set for 2+ hours before serving.
---