Pink Pitaya Cookies
Turn your regular ol' cookies into super cookies with super good ! These Pink Pitaya Cookies will pair scrumptiously with your glass of oat or almond milk. Are you drooling yet?!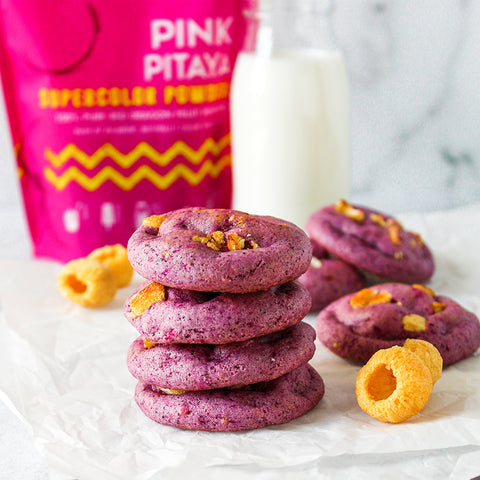 Ingredients
Makes 18 Cookies
1 1/2 cups unbleached all-purpose flour
5 tbsp Suncore Foods® Pink Pitaya Powder
3/4 tsp baking powder
3/4 tsp baking soda
1/2 tsp salt
3/4 cup cane sugar
1/3 cup extra light olive oil
1 tsp vanilla extract
1 large egg + 1 large egg yolk, room temp or flaxseed meal
1/2 + 1/4 cup dried fruit of choice
Directions
1. In a large bowl, whisk together the flour, Suncore Foods® Pink Pitaya Powder, baking powder, baking soda, and salt; set aside
2. In a small bowl, whisk together the sugar, oil, vanilla, and egg + egg yolk until totally combined. Add wet ingredients to dry and mix until no flour streaks remain. Stir in 1/2 cup of the dried fruit (it's okay if they break into smaller pieces). Cover and refrigerate dough for 3 hours.
3. Preheat oven 350ºF and line a baking sheet with parchment paper. Scoop 1 1/2 tbsp size balls of dough. Break up the leftover 1/4 cup of dried fruit into smaller pieces. Add those pieces to the top of each dough ball and roll smooth. Slightly flatten each dough ball and bake at 350ºF for 5 minutes.
4. Allow cookies to cool on baking sheet for a minute before gently moving them to a cooling rack. The cookies will be puffed up when you first them out; they'll settle once they've cooled.
5. Store leftover cookies in an airtight container at room temperature.

Notes: Eggs can be brought to room temperature by placing them in a glass of warm water for around 10 minutes.
Notes: For vegan cookies, sub 1 1/2 flax egg for eggs (1 1/2 tbsp flaxseed meal + 4 1/2 tbsp of water; let thicken for 5 minutes)
---