Pink Pitaya Red Beet Bow Tie Buns
Tied together in a perfect bow, these Pink Pitaya Fluffy Bow Tie Buns are a sweet treat that instantly emits happiness into our day! These are so adorable, yummy, and make a pretty pink by using our Suncore Foods® Pink Pitaya Powder & Suncore Foods® Red Beet Powder! Baked to the perfect fluffiness, no one will be able to stop eating these once they taste how soft and pillowy these buns are. If you want to get a taste of these cushiony treats, be sure to grab a bag or two of our powders.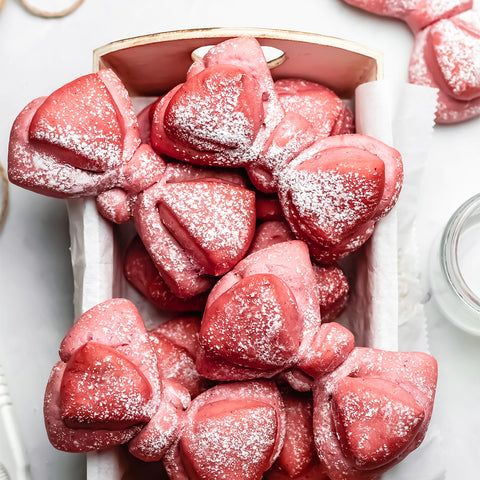 Ingredients
Yields 8 Small or 4 Large Buns:
250g (2 cups) all purpose or bread flour
3g (1 tsp) instant yeast
25g (2 tbsp) cane sugar
2g (1/4 tsp) salt
28g (2 tbsp) oil or melted vegan butter
125 (1/2 cup) plant-based milk, lukewarm
12g Suncore Foods® Pink Pitaya Powder dissolved in 40g water
6g Suncore Foods® Red Beet Powder dissolved in 20g water
Directions
1. Combine all the above ingredients. Knead until a smooth and elastic dough forms, about 20 minutes by hand. Place into a bowl, cover, and let rise for 1-2 hours. Once the dough doubled in volume, punch it down and divide into 8 equal pieces. Flatten each piece into a round disk.
2. Make 2 close cuts from top to the center, and 1 cut from bottom to center, leaving some space intact at the center. Then, make 2 equally-spaced cuts each on the left and right, so that each side has 3 equal. Fold one side's center flap across the top, then push the outer flaps toward each other. Flip the center flap back so that it now lies on top of the joined outer flaps. Repeat on other side. Finally, take the top strip and wrap it around the center.
3. Repeat the shaping process for remaining pieces, then place the buns onto a lined baking sheet and let rise for 45 minutes. Once they are puffy, dust the buns with flour and bake at 350°F/180°C for 25 minutes. Let cool and enjoy!
---