Pink Pitaya Dusted Banana Bread Donuts
Banana bread donuts?! Yup, that's right! Donutfy your banana bread and enjoy a classic in a fun new way!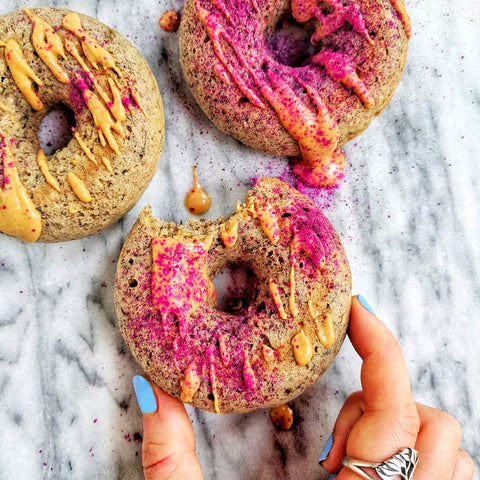 Ingredients
Banana Baked Donuts:
2 bananas (mashed)
1 egg
1 tsp vanilla extract
2 tbsp coconut oil
¾ cup oat flour grounded
½ tsp baking powder
½ tsp baking soda
¼ tsp cinnamon
⅛ tsp nutmeg

Toppings:
Peanut butter
Suncore Foods® Pink Pitaya Powder
Directions
1. Preheat oven to 350ºF.
2. Throw everything into a bowl and mix well.
3. Spoon batter into donut mold and bake for 10 minutes.
4. Top with a peanut butter drizzle and dust with some Suncore Foods® Pink Pitaya Powder.
---