Pink Pitaya Chocolate Peppermint Cake
We're feeling the holiday vibes. Everything about this gorgeous Pink Pitaya Chocolate Peppermint Cake screams Happy Holidays and we're ready for a slice! This eye-catching frosting color is made using Suncore Foods® Pink Pitaya  Powder. This cake is a must-have for your holiday celebration!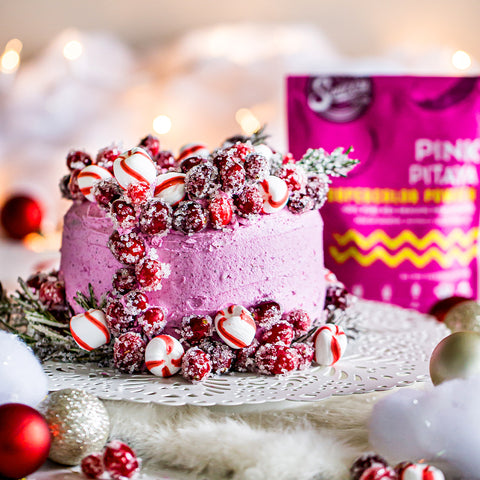 Ingredients
Chocolate Peppermint Cake:
2 cups gluten-free 1:1 baking flour
1 teaspoon baking soda
2 teaspoons baking powder
½ teaspoon salt
1 cup date sugar
¼ cup unsweetened cocoa powder
¼ cup agave syrup (or maple syrup)
1 teaspoon pure vanilla extract
½ teaspoon pure peppermint extract
1 can aquafaba (the liquid in a can of chickpeas)
2 teaspoons cream of tartar (whipped with the chickpea brine)
1 can coconut milk
½ cup dark chocolate chunks/chips

Pitaya Peppermint Frosting:
1 cup vegan/plant butter
4 cups organic powdered sugar
1 teaspoon pure peppermint extract
3 tablespoons Suncore Foods® Pink Pitaya Powder

Decorations (sugared cranberries/rosemary sprigs)-optional:
1 cup fresh organic cranberries
fresh rosemary (about 4-6 sprigs)
½ cup organic cane sugar
½ cup water
1-2 cups sparking sugar
Directions
1. Sugared Cranberries & Rosemary — If you're decorating your cake with sugared cranberries and rosemary, make these first. Place ½ cup granulated sugar and ½ cup water in a small saucepan. Stir together while heating over medium-high heat. Continue to stir occasionally until sugar dissolves and mixture begins to boil. Remove from heat and add the cranberries (you may have to do this in a couple different batches). Allow the cranberries to sit for 4-5 minutes in the sugar water mixture. Using a slotted spoon, remove cranberries from the saucepan and place on parchment paper for 10 minutes (making sure they aren't touching). Repeat with other cranberries and the rosemary sprigs. Place your sparking sugar in a medium bowl. Add a few cranberries at a time and use fingers or small spoon to gently roll in the sugar to coat completely on all sides (be sure your cranberries don't stick to each other). Remove and place on a parchment lined baking rack to dry. Repeat with all cranberries and rosemary sprigs. Let them dry at room temperature for one hour. Store leftovers in the fridge.
2. Chocolate Peppermint Cake — Preheat your oven to 350 degrees F. Whisk together all dry ingredients in a medium bowl (except for dark chocolate chunks/chips. In your KitchenAid mixer (or alternatively you can use a hand beater with a large bowl), beat your aquafaba (the liquid from a can of chickpeas) on high until it starts to froth up. Add the cream of tartar as it starts to thicken. It's done when stiff peaks form and it resembles whipped egg whites. Add the liquid ingredients to the bowl with the whipped aquafaba (this will cause it to deflate). Finally, add in the dry cake mix to the bowl and blend until a nice smooth batter forms. Fold in the chocolate chunks/chips. Spray 2 6-inch cake pans with coconut oil and place them on a large baking sheet (makes it easier to take them out of the oven). Fill each pan equally with the cake batter and bake for 25-35 minutes, until a toothpick inserted in the middle comes out clean. Move the cakes to a cooling rack and cool for about an hour before frosting.
3. Pitaya Peppermint Frosting — In your KitchenAid Mixer (or bowl with hand blender) beat the butter, vanilla, and peppermint until its smooth. Slowly add in your powdered sugar, 1/2 cup at a time and continue beating while you do so. Finally, add the Suncore Foods® Pink Pitaya Powder.
4. Frosting and Decorating — When your cakes are cool, place one cake onto a cake platter or flat dish. NOTE: you may need to slice the top off the bottom cake to make sure the other cake will sit flat on top of it. Add a generous amount of frosting on the top of that cake. Add the other cake on top of it, making sure it's stable. Spread the remaining frosting over the whole cake (you may have a little leftover frosting). Decorate with sugared cranberries and rosemary sprigs (and peppermint candies if desired).
---