Peony Blossoms Raindrop Cake
Captivating crystal clear like dessert that dissolves in your mouth like eating beautiful drops of rain with a splendidly delicate flavor. If you have not tried this then we highly recommend it! The raindrop itself is made out of only two : water and agar. Infused with Suncore Foods® Peony Buds for the added sweetness and Suncore Foods® Butterfly Pea Flowers to achieve the magical gradient blue hues. The end result is surprisingly refreshing. It is such a delight and will easily impress your guest.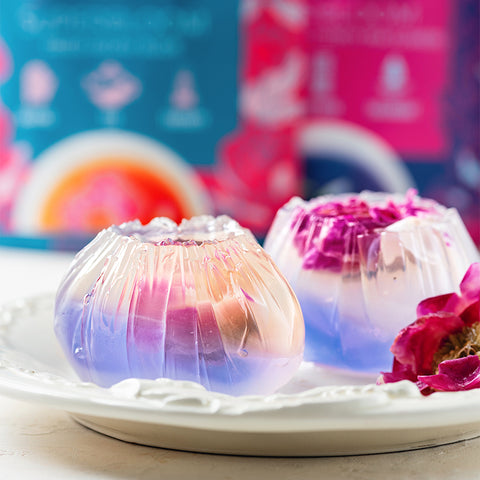 Directions
1. Prepare 3 cups covered with plastic wrap on top. Make sure the plastic wrap is loose so it can hold water later.
2. In a pot, bring 1 cup water, Suncore Foods® Butterfly Pea Flowers and agar agar powder to a simmer over low heat, stirring frequently. When it comes to a simmer, remove from heat and whisk in sugar/ honey.
3. Pour the blue mixture into the plastic wrap in each cup and set in the fridge for 1 hour.
4. Place the Suncore Foods® Peony Buds in a tea pot. Boil 2 cups water and pour over the peony buds. Let steep for 5 - 10 minutes. Take the buds out and boil the tea again. Whisky in sugar/honey and agar agar powder.
5. Take the cups out of the fridge and place peony flowers on top of the blue jelly. Pour in the peony tea mixture on top and gently take the edge of plastic and remove from the cup. Hang up the raindrop cake in a cool place for 2 hours.
---