Orange Spice Madeleines
Orange, spice, and everything nice! These Orange Spice Madeleines are sure to satisfy your sweet tooth! Incorporated Suncore Foods® Autumnal Baked Sweet Potato Yam and Yellow Goldenberry Powders to add to the oh-so-delicious flavor. We'll definitely be taking more than one!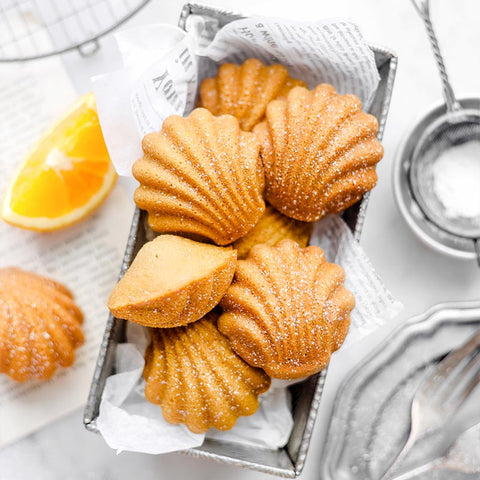 Directions
1. In a large mixing bowl, combine almond flour, all purpose flour, cornstarch, coconut sugar, baking powder, salt, spices and orange zest.
2. Dissolve Suncore Foods® Autumnal Baked Sweet Potato Yam Powder & Suncore Foods® Yellow Goldenberry Powder in plant-based milk. Whisk in coconut oil, orange juice. Then pour wet ingredients to dry. Gently mix until just combined. Refrigerate the batter at least 20 minutes or until batter is thicken.
3. Brush Madeleine pan with melted vegan margarine. Scoop batter into moulds using a mini ice cream scoop. Bake at 180º preheated oven for 20-25 minutes until edges begin to become a little golden. Enjoy! 


---