Ombre Purple Rice Krispy Treats
Fun no-bake childhood treat with a colorful twist with the perfect combination of butter, marshmallows & cereal! So easy to make Gooey-licious Ombre Purple Rice Krispy Treats that you'll want to make these go-to snacks over & over again. Incorporated Suncore Foods® Ebony Carrot & Lilac Taro Yam Powders to make the popping purple color. Sure to please both kids & adults alike! As always, you can use pink, yellow, blue, and or all the colors in the rainbow with Suncore Foods® Powders.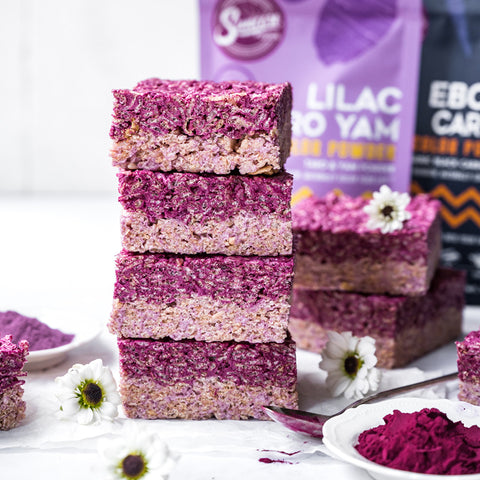 Directions
1. Melt butter over medium low heat in a large pot. Stir In 2 tbsp of Suncore Foods® Powder. Add marshmallows and stir well - It will take some time for them to melt. Once they begin to melt, add 1 tbsp of water. The mixture will really begin to come together. Whisk vigorously until smooth. At this point, slowly fold in the rice krispies.
2. Keep mixing until all of the rice krispies are well coated. Then press the mixture evenly into a parchment lined 9x9 pan, making sure to leave parchment on both sides above the rice puff mixture so it is easy to remove from the pan. It can help to use the back of a measuring cup to press it down firmly. Repeat this process with a second Suncore Foods® Powder and layer it on top of the first color. Be sure to press down very firmly so the 2 colors hold together.
3. Let cool completely. Then remove from the pan and slice into desired sizes. Note that to make bars that are not as thick, you can simply halve the recipe for each color.
---