No-Bake Blueberry Cacao Coconut Ebony Carrot Flakes Cheesecake
No-Bake Blueberry Cacao Coconut Ebony Carrot Flakes Cheesecake are our favorite things & the love affair began when we see how easily Suncore Foods® Powders can be incorporated. The vibrant layers are delightfully colored using Suncore Foods® Ebony Carrot & Indigo Blueberry Powders. Such a beauty & oh so perfect! Taste a Suncore Foods Life!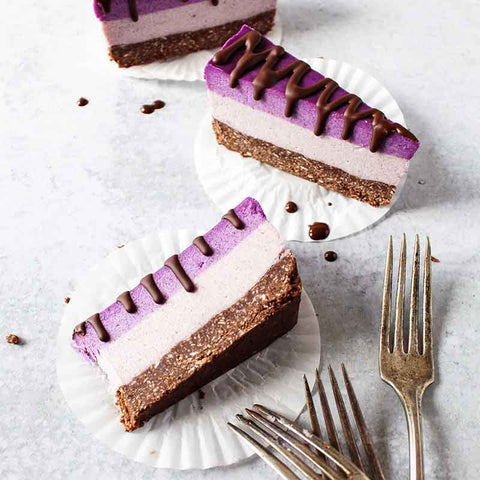 Directions
1. Soak your cashews overnight in a small, covered pan or bowl, making sure the nuts are totally submerged. Drain just before making your cheesecake.
2. Spray a 9x5" loaf pan with olive oil or other non-stick spray. Then, line with parchment paper, making sure all four sides are lined + a bit of paper hangs over the sides to help you pull your cheesecake out later.
3. Blend the crust ingredients in a food processor or blender until well combined. Add an extra tbsp of liquid coconut oil if your mixture looks dry (I added between 3 and 4 tbsp). Firmly and evenly press the mixture into the bottom of your lined loaf pan; refrigerate.
4. In a clean blender, add the coconut cream, scooping just the solid cream off of the top. Add the soaked cashews, solid coconut oil, maple syrup, lemon juice, salt, Suncore Foods® Ebony Carrot Powder, and Suncore Foods® Indigo Blueberry Powder. Blend until totally smooth. Taste your mixture and add more maple syrup for sweetness or more lemon juice for tanginess.
5. Pour 1 1/2 cups of the cheesecake mixture over the refrigerated crust, using a small spatula to evenly spread it; refrigerate for 15 minutes. With the remaining cheesecake mixture, blend in another 2 tsp of the Suncore Foods® Indigo Blueberry Powder. Pour this darker mixture over the first cheesecake layer, using your small spatula to evenly and neatly spread it; refrigerate until solid - your cheesecake will no longer look glossy in the middle once it's set.
6. Once your cheesecake has set, remove it from the refrigerator and let it sit at room temperature while you prepare your chocolate drizzle. Melt the chocolate chips and coconut oil until smooth. Pour chocolate into a piping bag or ziplock baggie.
7. Use the parchment paper tabs to gently lift your cheesecake out of the pan. Slice into bars or triangular slices (by angling your knife). Snip the corner of your ziplock baggie and drizzle melted chocolate over each slice. Enjoy! Store leftovers in an airtight container in the refrigerator.
---