Mixed Berry Summer Tart
All summer vibes with this refreshing, fruit-galore tart! One bite of this Mixed Berry Summer Tart will definitely put a smile on your face. Such a summer must-have dessert!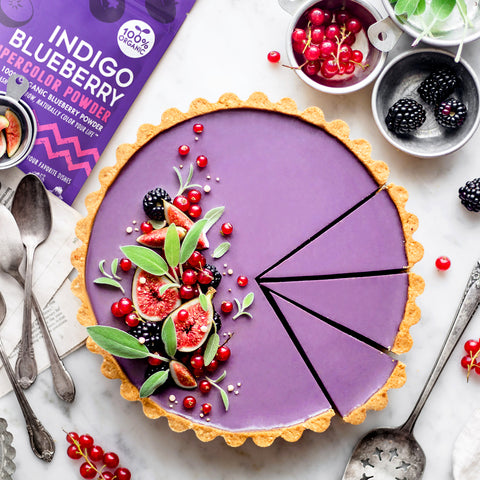 Ingredients
Make A 8" Deep Tart Pan
Crust:
1 1/4 cups almond meal
1 cup gluten free flour
2 tbsp pure maple syrup
1/4 cup coconut oil
1/2 tsp vanilla bean extract
Pinch of salt

Filling: 
2 cups mixed berries (raspberries, blackberries & blueberries)
2 canned full fat coconut milk
1/2 cup freshly squeezed lemon juice
1/4 cup water
1/3 cup pure maple syrup
2 tsp agar agar powder
1 tbsp Suncore Foods® Indigo Blueberry Powder
Directions
1. Crust — Preheat oven to 180 celsius. Grease a tart pan. Set aside. 
In a food processor, combine crust ingredients and pulse to combined. You should get a moist mixture than can be easily moulded. Firmly press into bottom and up the sides of tart tin. Bake for 20-25 mins until crust is golden brown. Transfer to a wire rack and let it cool while you're preparing the filling.

2. Put the berries and water into a saucepan over a medium heat. Mash the berries as they begin to heat up. Transfer mixture to the blender and blend until smooth. Strain it through a fine mesh sieve.
3. Add coconut cream and berry mixture into a saucepan and place on the stove on low heat. When the mixture becomes warm add the agar-agar and Suncore Foods® Indigo Blueberry Powder, stirring constantly, cook until agar completely dissolve. Then whisk in lemon juice and maple syrup.
4. Remove from heat and strain it through a fine mesh sieve into a heatproof bowl. Allow mixture to cool for 5 minutes.
5. Pour the mixture into cooled tart. Place tart in the fridge to set, about 4 hours or overnight. Garnish tart as desired with fruits and enjoy!
---