Midori Jade Matcha Pancakes
There's just something about stacks of fluffy, buttery breakfast cakes that makes us feel like we're starting the morning with dessert and this perfectly scented Midori Jade Matcha Pancake is calling. Are you ready for the dreamiest pancake? Made incorporating Suncore Foods® Midori Jade Matcha Powder to give it a brilliant green hue that stands out and a flavor boost that you can't stop eating. It's super airy and fluffy like you're eating cotton clouds. Served with warm maple syrup and a red currants.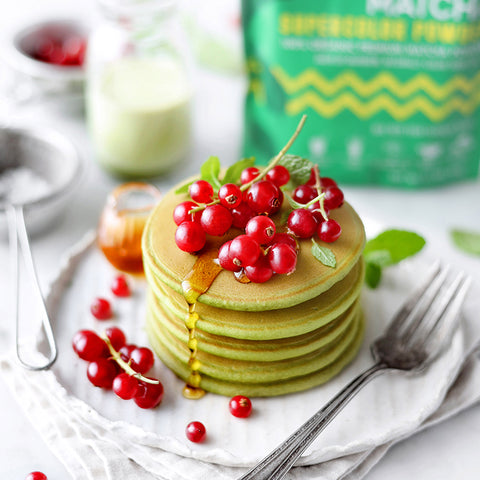 Ingredients
1 1/4 cups white spelt flour
1/2 tbsp baking powder
2 tsp Suncore Foods® Midori Jade Matcha Powder
2 tbsp maple syrup
1 tbsp coconut oil
1/2 tbsp apple cider vinegar
1 tsp vanilla bean extract
1 cup unsweetened plant/based milk
Directions
1.  In a large bowl sift spelt flour, Suncore Foods® Midori Jade Matcha Powder and baking powder and whisk to combine.
2. Add coconut oil, milk, maple syrup, vanilla bean, apple cider vinegar and mix well. 
Heat coconut oil in a pan.
3. Cook pancake for a couple of minutes until it starts to bubble. Then flip and cook through for another 2-3 minutes. Repeat until all the batter is used.
4. Served warm with maple syrup and red currants. Enjoy! .
---