Midnight Purple Corn Steamed Buns
Say hello to the newest member of the Suncore Foods® Powder Family...MIDNIGHT PURPLE CORN! Purple corn was a staple in ancient civilizations of South America and is widely grown in the present day. It originates from ancient purple corn called Kculli, which has long been revered as "the plant of remembrance," fitting for its striking color. What better way to pay homage to this wondrous crop than to create airy and fluffy steamed buns! And what better way to perfectly match the deep color of purple corn than to use the corn itself in powder form! Shall we say...cornception? Check out our newest product and this recipe by popping on over to SuncoreFoods.com! Stay a-maize-ing!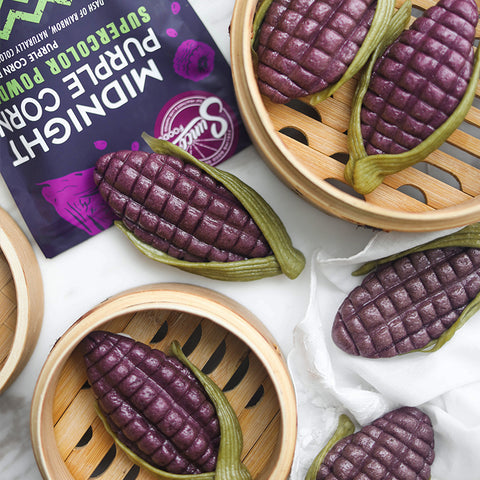 Directions
1. In a large mixing bowl combine all dry ingredients, add in oil and water gradually, mix into a dough. Cover the bowl and let the dough rest for 15 minutes.
2. Divine dough, as the dissolved Suncore Foods® Midnight Purple Corn Powder & Suncore Foods® Midori Jade Matcha Powder to the each portion of dough, knead until well incorporated, dough becomes smooth, elastic, and shiny.
3. Divide each dough into 8 portions. Roll and shape the dough to corn shape.
4. Place buns on parchment paper squares. Cover and set in a warm place to rise for 20 minutes.
5. Steam buns for 12-15 minutes on low heat. Serve warm. Enjoy!
---