Matcha Tea Cake with Matcha Pandan Buttercream
We've got matcha madness! So fresh and so pretty. This soft & moist delectable Matcha Tea Cake with Matcha Pandan Buttercream is the perfect base for spring flowers & fresh fruit for a total dessert bliss, well worth the indulgence. Incorporated Suncore Foods® Midori Jade Matcha Powder to create this gorgeous shade of green and the addition of Suncore Foods® Emerald Pandan Leaf Powder in the buttercream to enhance its flavor. Beautifully colored and fragranced tea cake with matcha & pandan buttercream are definitely a match-a-made in heaven!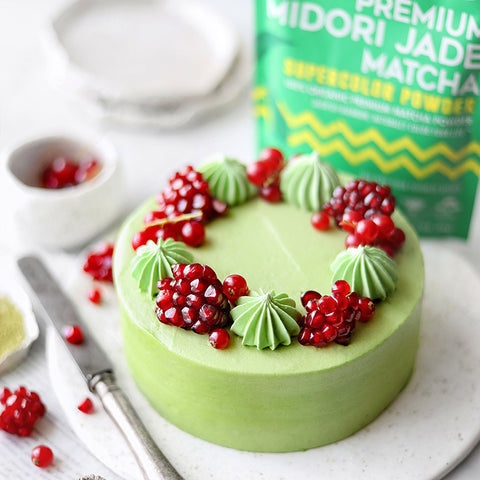 Directions
1. Preheat the oven to 180c. Grease 2 6-inch round baking pans. Set aside.
Combine the wet ingredients, mix well to incorporate and set aside.
2. In the bowl of a large stand mixer, mix dry ingredients until well combined. Pour wet mixture into dry ingredients and mix until smooth.
3. Pour the batter into the prepared pans. Bake the cake for 45 to 50 minutes, until toothpick comes out clean. Let cakes cool completely.
4. Buttercream — Whip butter in the stand mixer bowl with the paddle attachment, on medium to high speed for about 2 minutes. Stop mixer and add the sifted powdered sugar. Mix on low speed until incorporated , scrape the bottom and sides of the bowl and then add in matcha coconut cream mixture (if you're looking for thinner consistency, add more coconut cream) mix on high speed for 2-3 minutes until smooth. Enjoy!
---