Matcha Red Bean Bun
Fetch yourself one of these fetching Matcha Red Bean Buns because they're bun in a million! Enhance the classic sweet steamed bun with Suncore Foods® Midori Jade Matcha Powder to add this rustic green color and add the earthy flavor of matcha that pairs well with a delicious, sweet red bean filling. A great way to enjoy these pillowy-soft fluffy steamed buns is with a heartwarming cup of milk or tea. Life is matcha better with good food!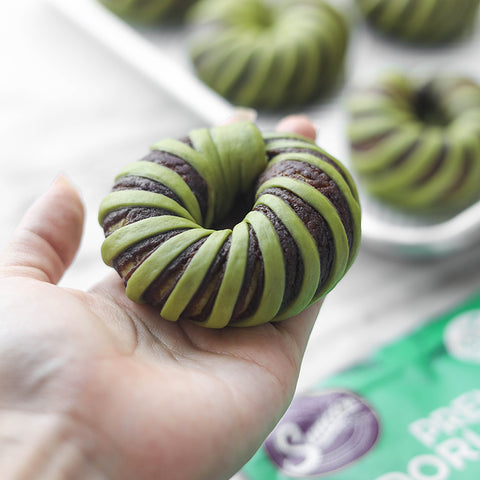 Directions
1. In a stand mixer, add all ingredients except for the butter. Mix on the low-medium speed with the hook attachment until the dough comes together, about 8 mins. Add butter, a few pieces at a time. Scrape down the bowl. Continue to knead on medium speed for 10 mins until the dough is smooth. Coverlet proof for 1 hour.

2. Transfer dough to the countertop. Divide dough into 6 portions, roll each dough piece into a ball, and let rest for 10 mins.

3. Flatten dough into a round disc. Wrap each dough with one portion of the red bean paste (28g) Pinch and seal the seam tightly. Flatten the dough into a round disc and roll out into a longish oval shape (15cm). Use a knife to make scoring. Roll up, seal, and pinch the edges.
---