Matcha Peppermint Cacao Nibs Meringue Cookies
What new flavor combo are we going to try today? These Matcha Peppermint Cacao Nibs Meringue Cookies will surely put your taste buds on a run ride down flavortown! Incorporated Suncore Foods® Midori Jade Matcha Powder into the meringue to get that pop of green and delicious, aromatic green tea flavor. Topped them all of with crunchy Suncore Foods® Cacao Nibs for the added texture and rich velvety taste! Who knew cookies could be this colorful and flavor loaded.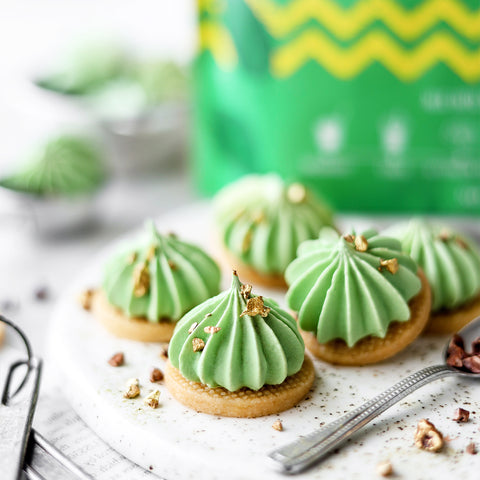 Ingredients

Meringue:
1/2 cup aquafaba/chickpeas water
1 cup powdered sugar
1/4 tsp cream of tartar
1 tbsp Suncore Foods® Midori Jade Matcha Powder
1 tsp peppermint extract

Cookie:
1/4 cup gf all purpose flour
1/4 cup almond flour
50g coconut oil, cold
3 tbsp powdered sugar
1/2 tsp vanilla bean extract
1/4 tsp salt

Garnish:
Suncore Foods® Cacao Nibs
Luster dust gold
Directions
1. Preheat the oven to 110c. Line a baking tray with greaseproof paper.
Clean bowl and whisker using kitchen towel with a little bit of vinegar. Place the aquafaba and cream of tartar into the bowl of an electric mixer.
Whisk for 5 mins until it's double in size and foamy. Slowly add powdered sugar, one tablespoon at the time. whisking until the mixture forms stiff, glossy peaks (15 mins). Add Suncore Foods® Midori Jade Matcha Powder, peppermint extract and whisk to combine. Transfer the meringue mixture into a icing bag with a star tip. Bake for 2 hrs. (Meringue might take a little longer to dry if they are bigger) Take them out of the oven, let them cool and enjoy. Store in a dry place so they maintain their shape.
2. Make the Cookies – In a stand mixer, add all cookie ingredients and mix into a dough. Cover dough with plastic wrap and chill in the fridge for 15 minutes. Preheat oven to 170c. Prepare a baking tray with parchment paper. Roll dough out onto a piece of parchment paper to about 1/4-inch thickness and cut out the dough using a cookie cutter. 12-15 minutes until golden brown at the edges. Allow to cool completely. Use chocolate ganache to attach the cookies. Enjoy!
---