Matcha Meringue Kisses
Don't stress about getting that kiss under the mistletoe when you can have a mouthful of these beautiful Matcha Meringue Kisses that will make you sing with your heart. These sweet little meringues are soft, crisp and chewy, and with Suncore Food® Midori Jade Matcha Powder, you will still be embracing the Christmas spirit! With a delightful green and a hit of matcha, these meringue kisses are balanced with the right amount of sweetness! These delicious treats can be ready in under 20 minutes, so why not drop some kisses?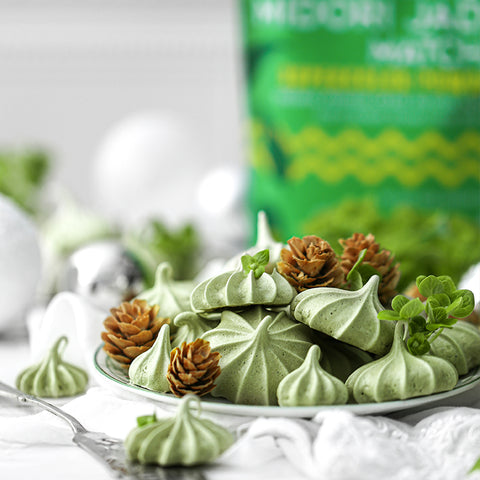 Directions
1. Preheat oven to 100 degrees Celsius.
2. Dissolve Suncore Foods® Midori Jade Matcha Powder and water, set aside.
3. In a bowl of a stand mixer with a wire whisk attachment; add in egg whites, whisk on medium speed until foamy, then add in cream of tartar and salt. Continue to whisk on medium to medium-high speed; add in sugar; 1 tbsp at the time until mixture becomes stiff peak. Add in the matcha powder; continue to whisk until matcha mixture is fully incorporated.
4. Transfer mixture to a piping bag filled with star tip. Pipe them on a baking tray lined with parchment paper, leaving about 2 cm apart for each cookie.
5. Bake them for 10 minutes. Let them cook on wire rack before removing. Enjoy!
---