Pink Pitaya Strawberry Marbled Loaf
Delicious & super fun loaf features gorgeous marbling of vibrant striking pink color swirl and the bonus touch of sweet strawberry chips. This absolutely upgraded an ordinary sandwich bread with this Marbled Loaf using our Suncore Foods® Pink Pitaya & Red Beet Powders to achieve the fun pink swirls. It is as pretty as it is delicious and really simple to make. Bring a touch of fun to your sandwich!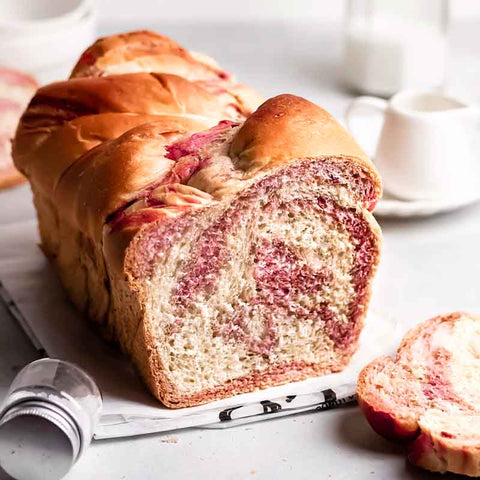 Directions
1. In the bowl of a mixer, combine all the dough ingredients and knead until smooth and elastic. The dough should form a thin and translucent membrane when stretched, like a "windowpane" through which your fingerprints should be visible. (Kneading time will vary; my bread machine took ~40 minutes.) Separate about 1/3 of the dough and knead the Suncore Foods® Pink Pitaya Powder and Suncore Foods® Red Beet Powder into that piece. Cover the dough pieces with a damp towel and let rise for 90 minutes, or until doubled in volume.
2. Once the dough balls have risen, punch them down and let them rest for 15 minutes. Roll the colored dough into a roughly 15 x 15 cm square, and the plain dough into a 15 x 35 cm rectangle. Place the square at the center of the rectangle, sprinkle on the strawberry chips, then fold the two flaps of the bottom rectangle over top of the square. Pinch and seal all the edges of the plain dough to fully enclose the colored dough. Then, roll the dough down into a roughly 15 x 35 cm rectangle. Fold its outer thirds over the center, then pinch the edges together again. Once more, roll the dough down into a roughly 15 x 35 cm rectangle.
3. Using a sharp knife, divide the dough lengthwise into 3-4 equal strips, while leaving one end intact. Braid the dough, and pinch together the strips at the other end. Place into a greased 8 x 4 inch loaf pan and let rise for 45 minutes.
4. Bake in a preheated oven at 350F/180C for 40 minutes. Let the loaf cool in the pan for 10 minutes before removing to a wire rack.
---