Marbled Crystal Dumplings
Feast on the beautiful rainbow this weekend! Add a pop of color to your weekend celebration with these Marbled Crystal Dumplings colored deliciously using Suncore Foods® Red Beet, Ruby Red Radish, and Yellow Goldenberry Powders. Visually appetizing fancy and super delicious colorful crystal steamed dumplings are super easy to make and so fun to eat!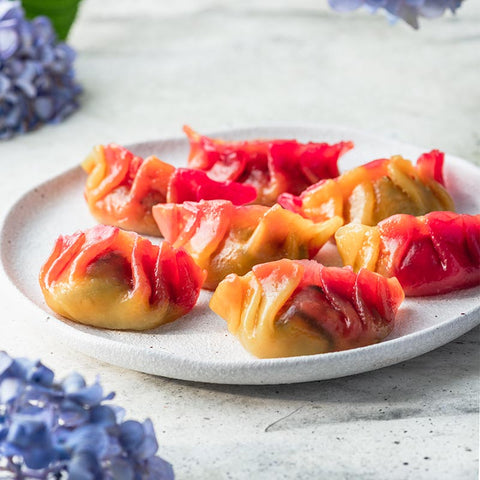 Directions
1. Add vegetables in a bowl with pinch of salt and mix well. Drain the juice after 10 minutes. Add the rest ingredients and mix until well-incorporated. Set aside.
Make the dough
2. In a big bowl, add wheat starch, potato starch, Suncore Foods® Red Beet Powder, Suncore Foods® Ruby Red Radish Powder, salt and oil.
3. Pour in boiled water. Stir well with a pair of chopsticks, then knead with hands into a smooth, soft dough. Follow the same process for the yellow dough.
4. Roll the pink dough into a long even log. Shape the yellow dough into a rectangle sheet. Wrap the log with the rectangle sheet and roll it thinner and longer.
5. Cut the rope into small pieces and press each piece into a small disc. Then use a rolling pin to flatten it into a thin disc.
6. Place a tablespoon of filling in the middle of a wrapper and seal the wrapper.
7. Place them into the steamer basket and boil a pot of water. Place the basket in when the water is boiling. Cook over medium heat for 6 minutes (do not overcook).
---