Magical Rainbow Tower Cake
Somewhere over the rainbow! This spectral rainbow tower cake will make you sing "dreams really do come true-oooh". With the magic of Suncore Foods® Powders, we can bring this lovely rainbow to your dinner table. This cake can be the life of your youngsters' party or just any kind of celebration. Rich with color and rich with flavor, this cake is decked out in a delectable cream cheese frosting. It looks like a dream and tastes like heaven! No special occasion is complete without a cake, so let's get baking! Have fun and heaven is just a cake away!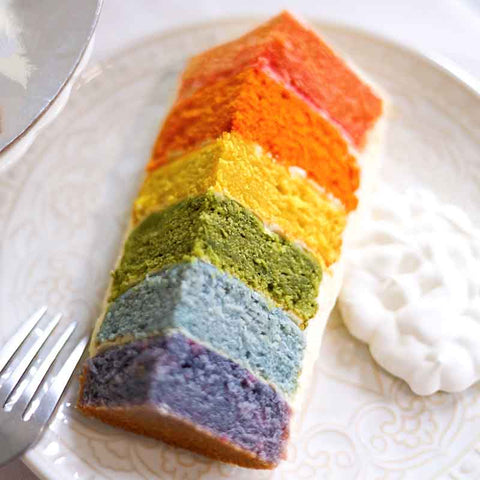 Directions
1. Cake - Preheat the oven to 180°C/ 356°F. Grease the 4-inch cake pans. In a large bowl, add butter and sugar, beat until it turns pale. Add egg, one at a time, beat until well incorporated. Add oil, vanilla extract, and milk, beat until well incorporated. In another bowl, mix together flour, baking powder, and salt. On low speed, gradually add the dry ingredient, beat until just combined. Divide the batter evenly into 6 bowls, add Suncore Foods® Powder and mix well. Pour the batter into the cake pans. Bake for around 22 minutes. Let cool down completely. 
2. Frosting - Beat the cream cheese until smooth. Gradually add whipping cream while beating until soft peaks form. Add vanilla extract and gradually add powdered sugar. Beat until stiff.
---