Lemon Madeleines with Cosmos Red Cabbage and Ruby Red Radish Glaze
Who doesn't love warm, buttery, velvety, delicate little cakes? These delicious purple hue lemon madeleines will make a perfect snack! Refreshing, stunningly delicious, and vibrant lemon madeleines with golden-crisp edges, moist and pillow-soft center, these treats will make everyone crave for more! Color it romantic purple with Suncore Foods® Cosmos Red Cabbage and Ruby Red Radish Powders. Get your cup of tea, have a bite of this deliciousness, and call it an afternoon. Great for any time, any day, or a snack to fuel your endeavors!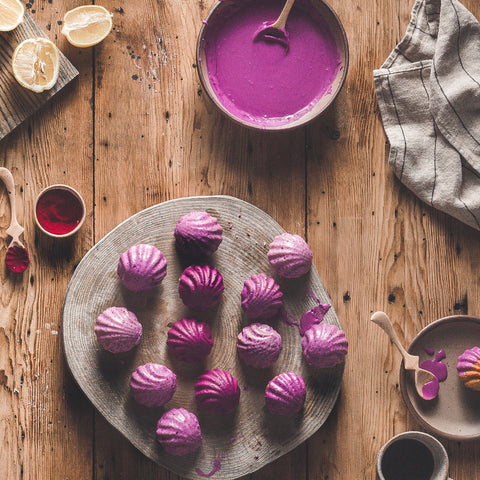 Directions
1. Melt butter till it turns brown and tills you get a nutty aroma for around 7 mins in medium flame. Remove from flame. Set aside to cool.
2. Sift all the dry ingredients together ( cake flour, baking powder, and salt )

3. Beat the eggs and sugar well for 8 mins until light and fluffy using whisk attachment and doubled up in volume.

4. Add in the vanilla extract, lemon zest, and dry ingredients. Fold them into the egg mixture using a spatula.

5. Finally, add the browned butter and fold it into the batter. Wrap the batter in clear wrap. Make sure the clear wrap touches the surface of the batter. Refrigerate the batter for 3-4 hours or overnight.

6. Brush melted butter all over the madeleine pan.

7. Place it in the freezer.

8. After 3-4 hours, preheat the oven to 350 F. Spoon the refrigerated batter into the prepared Madeleine pan. And bake for 10-15 mins or till done. Do not overbake.

9. Invert the madeleines onto a cooling rack to cool off completely. Make the glaze by mixing all the ingredients listed under glaze. Dip the cooled Madelines in the glaze and place them in the cooling rack to set completely. Enjoy.!
---