Layer Rainbow Cake
Romance is the icing, but love is the cake! Let's make it a love affair with this stunning Layer Rainbow Cake! Just one glance at this beauty, and we're instantly falling in love. The warm orange, following a sweet bright pink, then a deep warm red, it's gorgeous. Elevate your dessert table and recreate this beauty with Suncore Foods® Powders. Get your fork and dig in, you will find this cream cheese frosting incredibly delicious, it's full of buttery goodness perfectly combined with a hint of pumpkin spice. Mmmmmmm, DELISH!  Always chase the rainbow!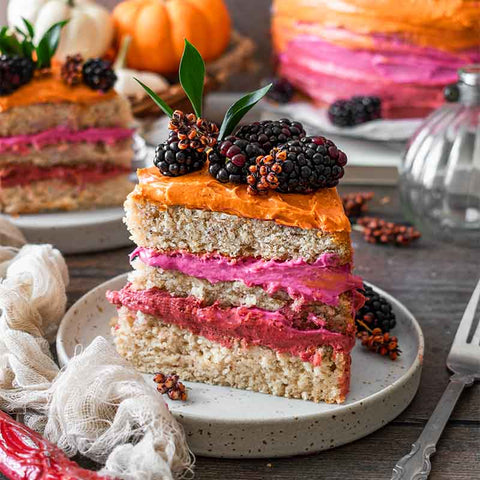 Directions
1. Cake — Preheat oven to 350 degrees. F and brush a generous amount of butter on the inside of a 9" cake pan making sure the sides are coated. Using an electric beater, beat together sugar and butter until fluffy. Mix in vanilla and flax egg, continue to beat for a few seconds. Next, add condensed milk and beat for another few seconds. Finally, mix in vanilla oat milk and continue to beat until well combined. In a separate bowl, combine the remaining ingredients and add the dry ingredients to the wet ingredients 1/3 portion at a time. Transfer batter to the prepared cake pan and bake for 30 minutes or until it passes the toothpick test. Allow cake to cool down completely. Follow the same set of ingredients and directions to make 2 more layers.

2. Pumpkin Spiced Cream Cheese Frosting — Using an electric beater, beat together butter, cream cheese and pumpkin spice until fluffy. Mix in Supercolor(s) for 1 layer plus powdered sugar ½ cup at a time. Continue to beat until smooth and very well combined. Refrigerate frosting for 30-60 minutes before spreading it on the cake. Follow the same frosting ingredients and directions for the other 2 color layers.
---