Quinoa Hemp Mushroom Rice
Don't you love when simple things come together to create something delicious? This is what we call a simple dish done right! We can always count on Quinoa Hemp Mushroom Rice bowls to make our tummies smile!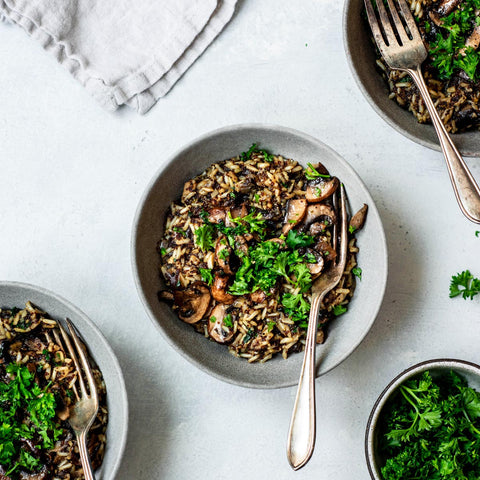 Directions
1. In a skillet over medium heat, gently toast Suncore Foods® Royal Rainbow Quinoa Seeds and rice over medium heat for about 5 min to bring out flavors. Make sure to stir several times to prevent burning.
2. In another pan, melt 2 tbsp vegan butter and sauté chopped onions for about 5 min.  Add minced garlic and cook for another few minutes.
3. Add rice and quinoa to onion and garlic mixture. Stir well and add in broth, white wine, chopped mushrooms, salt, and pepper. Bring to a boil, and then cover and reduce to medium low.
4. Cook for 40-45 minutes or until rice is tender and has absorbed broth. Add chopped parsley and Suncore Foods® Hemp Seeds about 10 minutes before being done.
---