Iced Cendol Rainbow Dessert
Sweeten your day and cool it down with this amazing sweet colorful dessert! Beat the heat with this fantastically refreshing Malaysian dessert called Iced Cendol. At the base of this dessert are colorful jellies made out of mung (green) bean flour that is tastefully in rainbow colors made with Suncore Foods® Powders. Chewy, tender, and perfectly sweetened accompanied with coconut milk over ice, taste the magic with these rainbow jellies! Expand your palate and try this fantastic recipe. Keep it fun & cool this summer with an icy sweet dessert!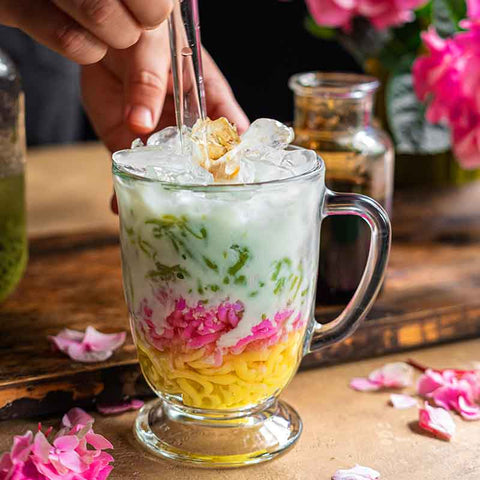 Directions
1. Coconut Sugar Syrup — Cook the sugar and water in medium heat until the sugar dissolves, set aside.
2. Coconut Milk — Cook the coconut milk in medium heat to simmer with salt, and Suncore Foods® Emerald Pandan Leaf Powder until it gently boils. Let it cool down.
3. Molding the Cendol — You can use a Noodle press, colander, or potato grater to press through the batter to make cendol. Alternatively, you can also use a piping bag to achieve the shape.
4. How to Make Cendol — In three different bowls, add the basic batter ingredients and add the corresponding color to each bowl. Whisk well and set aside. Prepare a bowl with the ice cubes and water for molding the cendol. Cook each color one by one in medium heat, stirring it continuously to thicken evenly. Cook for approximately 4 minutes until the batter turns darker, slightly translucent and springy. Turn off the heat and start molding immediately. Fill the batter into the mold and press it into a 2-inches length worm-like shape, dipping it into the ice-cold water to firm up and cool down immediately to avoid clumping. Work quickly as the batter hardens fast as they cool down. Repeat until the batter is finished, submerging them completely in ice-cold water. Repeat for other colors.
5. Assemble the Cendol Together — Pour the cendol into a glass (layering the colors) then add about a 1/2 cup of ice. Fill the glass with coconut milk, then drizzle 2 Tbsp of Coconut Sugar Syrup. Mix and ready to drink! Enjoy!
---