Homemade Donuts with Passionfruit Custard
Happiness is made of these delicious fresh-baked homemade donuts with passionfruit custard. Once you bite into these soft, fluffy donuts with tangy and sweet passionfruit custard, you will be craving for more! Use Suncore Foods® Marigold Passion Fruit Powder & Seeds to create this tasty, warm sunny passion fruit custard. There's nothing better than homemade baked goods that are made with love and delicious . Ooh-la-la time for some malasadas!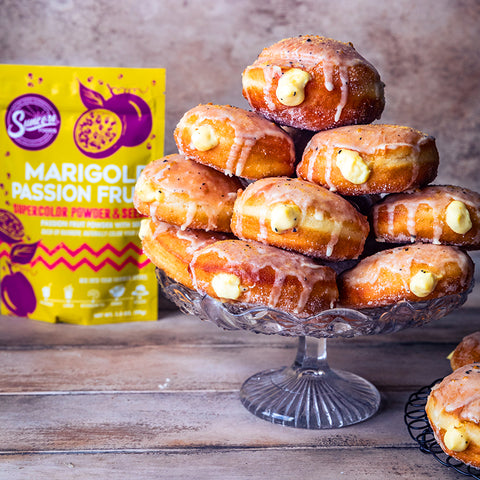 Directions
1. Mix all ingredients for the dough in a large bowl with a wooden spoon until well combined. Rest at room temperature until doubled in volume (2-3 hours) and then transfer to fridge and refrigerate overnight.
2. For the custard, whisk the egg and the egg yolks with sugar and cornflour until pale, light, and fluffy. Bring the milk and the cream to a simmer in a pot. When the milk is simmering, remove from heat and ladle half a cup of the milk and cream mixture into the whisked egg and sugar mixture, whisking as you do so. Once incorporated, transfer the egg-sugar-milk mixture to the rest of the heated milk and cream and return to heat. Using medium low heat, cook until the mixture is thickened, stirring constantly to avoid lumps. Once the mixture has thickened stir in cubed butter and whisk after each addition. Strain through a sieve to catch any lumps and scrambled egg whites and transfer to a clean bowl. Stir in the 3 tbsp Suncore Marigold Passion Fruit Supercolor Powder & Seeds. Put on a cling film touching the surface of the custard to avoid the formation of a skin and refrigerate overnight.
3. Next morning, empty the dough onto a floured work surface. Working quickly, roll the dough to a thickness of 1/3rd inch. Using a 2.5 inch cookie cutter, cut rounds of donuts and transfer on squares of parchment paper. Cover with cling wrap and let proof at room temperature until almost doubled in volume (2 hours).
4. Heat 2-3 inches of vegetable oil in a pot to a temperature of 350F. When the oil is heated, gently peel away the parchment square from the donut and transfer very carefully into oil. Fry for 2-3 minutes on each side until a light brown in color. Transfer on kitchen towel lined plate to soak any excess oil. Let cool.
5. Transfer the refrigerated custard to a piping bag fitted with a nozzle. Using a small knife, Puncture the side of a donut and fill it with custard. Mix all the ingredients for the glaze in a bowl. Dip the tops of filled donut into the glaze and transfer to a drying rack for the glaze to dry. Sprinkle with Suncore Foods® Sparkly Amber Passion Fruit Flakes and serve.
---