Holiday Gift Box Icebox Cookies
One of our favorite things to do during the holiday season is to bake homemade cookies with love and wrap them up as gifts to family and friends. Bake these cookies for your New Year's Eve Countdown snacks with kids and let them celebrate the New Year with a fun New Year New You Present-Shaped Cookies craft. These present-shaped cookies simply colored using our Suncore Foods® Powders will delight all ages. With our powders, the sky's the limit for decorating and coloring. Happy baking!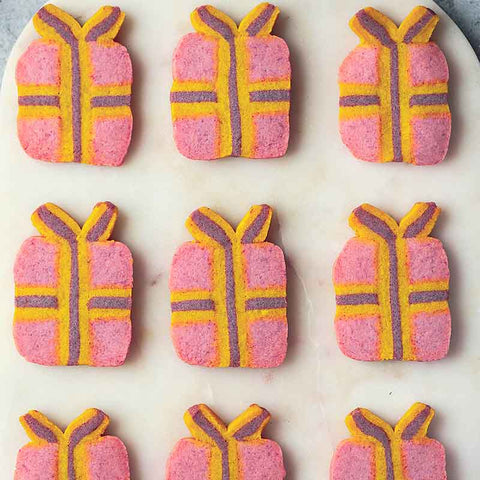 Directions
1. Using a hand mixer, beat butter until creamy. Add powdered sugar and beat until combined. Add the eggs, vanilla, and salt. Beat until well combined.
2. Gradually, add the flour until dough is moist and holds together. Divide the other half into 3 pieces (Ratio 3:2:1). Add the Suncore Foods® Red Beet Powder to the big piece; Suncore Foods® Lilac Taro Yam Powder to the middle size piece and Suncore Foods® Red Beet Powder & Suncore Foods® Yellow Goldenberry Powder to the small piece. Knead each dough until the color is well mixed.
3. Starting with pink dough, roll the dough to a rectangular prism shape. Roll the purple and yellow one to thin rectangular pieces (same dimension as the pink dough). Cover with plastic wrap and set in the freezer for 10 minutes.
4. Take the half pink dough and place on the yellow piece and then trim. And place it on the purple piece and trim. Follow with yellow again. Place the other half pink dough on top of it.
5. Turn the dough over and cut it into half again and follow the same process as above (yellow, purple and yellow).
6. For the top ribbon part, place the purple one on yellow and cover it with yellow (Same dimension as above). Cut into half and place on the prism.
7. Wrap in plastic wrap and chill for 30 minutes. Preheat oven to 330˚F.
8. Once chilled, remove the plastic wrap, slice cookies and place on a parchment paper-lined baking sheet.
9. Bake for 15 minutes and reduce the heat to 300 F and bake for another 6 minutes.
10. Cool on a cooling rack.
---