Red Beet Christmas Star Twisted Bread
Swirl with jam, this sweet stunning beauty will just melts in your mouth — it's incredible! Made with our Suncore Foods® Red Beet Powder in the delightful jam, this Red Beet Christmas Star Twisted Bread is an amazing dessert for your holiday celebrations & perfect for breakfast, brunch or dessert! There's nothing like the smell of fresh bread, warm filling the air to entice everyone who walks through your door! Truly a piece of art. Carb art.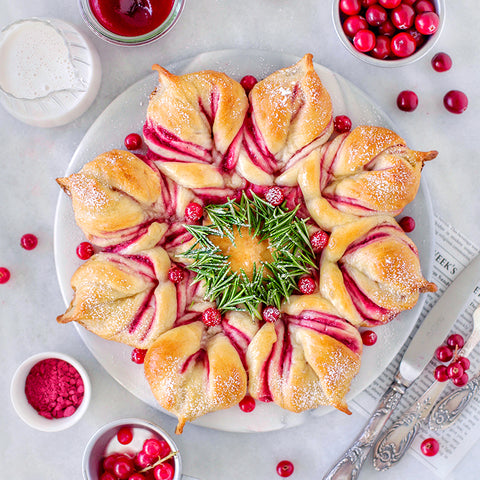 Ingredients
Prep Time: 20 minutes
Cook Time: 15 minutes
Proofing Time: 1 ½ hour
Total Time: 2 ½ hours
Yield: 8-10 people

Dough:
3 cups all-purpose flour
2 tbsp cane sugar
1/2 tsp salt
1/3 cup plant-based butter (softened)
1 cup almond milk (warm)
2 tsp instant yeast

Red Beet Cranberry Jam:
2 cups fresh cranberries
1/4 cup water + 2 tsp Suncore Foods® Red Beet Powder
1/4 maple syrup (adjust to taste)
1 tsp vanilla extract
Directions
1. Red Beet Cranberry Jam – Place a saucepan over medium heat and add maple syrup, vanilla extract, cranberries, water, and Suncore Foods® Red Beet Powder. Boil the mixture until the cranberries start bursting (approx. 6-8 min). Use a spoon/potato masher to crush the remaining cranberries. Remove the saucepan from heat. Set aside to cool. If you want a smoother texture, you may blend the jam for a minute or two to reach the right consistency. Taste the jam and adjust its sweetness by adding more maple syrup. Pour it into a large mason jar. Set aside for 4 hours (or refrigerate overnight).
2. Vegan Star Bread – Sift and mix the dry bread ingredients (i.e. the salt, flour, yeast, and sugar) in a large bowl. Add butter and plant-based milk into the mix. Use a stand mixer for kneading the mixture for at least 8 minutes (or until the dough forms). The perfect dough forms into a smooth and non-sticky ball. Grease another bowl with oil and place your dough inside. Cover the dough and proof it for 1 hour. Once proofed, punch the dough to remove air bubbles. Pull the dough apart and divide it into equal 4 portions. Dust the countertop with flour and roll the first portion into a circle with a 10" diameter. (Keep the remaining dough covered to prevent it from drying)
3. Spread the cranberry jam (2 tbsp) inside the circle while leaving a 1" gap at the edges. This forms the base of your bread.
4. Repeat the previous step with the remaining portions by placing each new layer on top of the base before spreading the jam. You should have 4 layers of circles and 3 layers of filling.
5. Take a 2 ½" cookie cutter/lid and make a dent in the center. This sphere serves as the center of your star.
6. Use a pizza cutter/knife to slice 16 slits across the dough.
7. Twist two adjacent strips of the dough outwards twice and then pinch their edges to seal them. Continue this until all the slits are twisted.
8. Proof the dough for ½ an hour.
9. Preheat oven to 180 °C.
10. Line your baking sheet with parchment paper before placing the bread.
11. Gently brush the top of your bread with milk to get a glistening look.
12. Seal edges before popping your bread in the oven. Otherwise, the filling might spill all over the baking sheet.
13. Bake for 15-20 minutes (or until it turns golden brown).
14. Dab freshly baked bread with butter. (Optional)
15. Let it cool before sprinkling it with icing sugar and other berries. Enjoy!


---