Pink Pitaya Glazed Carrot Cake Bundt
Fluffy, moist, and flavorful — this is the stuff dessert dreams are made of, who doesn't love a good Pink Pitaya Glazed Carrot Cake Bundt? Join us to grab a plate and a BIG slice of this best dessert ever made. Gobs of the very best cream cheese frosting incorporated Suncore Foods® Pink Pitaya Powder slathered over a perfectly moist carrot cake bundt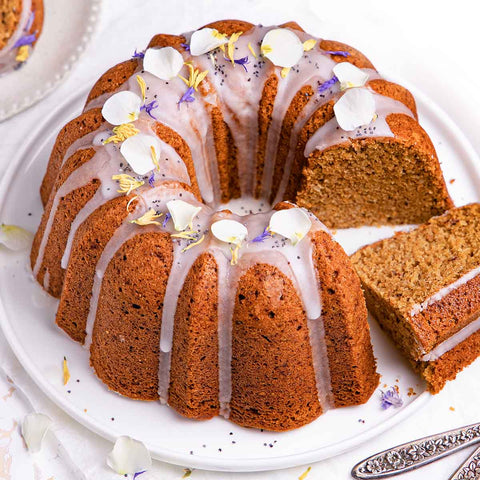 Ingredients
Makes for One 20 cm Bundt Cake
Dry:
3 cups whole wheat/ spelt flour, sifted
1/3 cup hazelnut meal
1/3 cup almond meal
2 tsp baking powder
1 tsp baking soda
1 tbsp safflower or turmeric powder
1 tsp salt
1.5 teaspoons ground cinnamon
1/2 teaspoon nutmeg

Wet:
1/2 cup vegetable oil 
1/2 cup + 1 tbsp light brown sugar
1/2 cup + 1 tbsp coconut or unrefined brown sugar finely ground
1 cup almond milk
1/4 cup fresh orange juice
2 tsp pure vanilla bean paste
200g (4 medium) carrots, grated
1 tbsp zest of organic orange
1tbsp Suncore Foods® Pink Pitaya Powder

Glaze:
1/2 cup powdered sugar or erythritol for sugar free
1 tbsp lemon juice
1-2 tbsp almond milk
Directions
1. Preheat the oven to 180C / 350F. Grease and flour one 20 x 10cm Bundt cake pan.
2. Peel and grate the carrots ( I used a microplane) and set aside.
3. In a medium bowl, sift together the dry ingredients.
4. In a large bowl whisk the oil, sugar, almond milk and vanilla for a few minutes until the sugar starts to dissolve.
5. Sift in the dry ingredients and stir to combine.
6. Stir in the grated carrot, fold to combine.
7. Pour the batter into the baking pan and bake in the oven for 45-50 minutes or until a toothpick inserted near the center comes out clean.
8. Allow to cool in the tin for 10 minutes, then turn out onto a wire rack to cool completely.
9. To make the frosting, combine the powdered sugar and lemon juice in a small bowl. Add the almond milk one tbsp at a time until desired consistency. Enjoy!
---