Halloween Colorful Spiral Bread
No eyes of newt or toes of frog here, but this dark and spooky bread is the stuff of dreams for witches! Craft this spookily fluffy bread with a perfect touch of sweetness and keep in the spirit of the Halloween season for breakfast or a festive snack! Brewing inside the dark cloak of Suncore Foods® Ebony Carrot Powder are the magical swirls of Suncore Foods® Midori Jade Matcha, Red Beet and Yellow Goldenberry Powders. This versatile bread is great on its own, with some butter and jam, paired with coffee, or as French toast! Find the spell, get your assortment of Suncore Foods® Powders, and let's get brewing!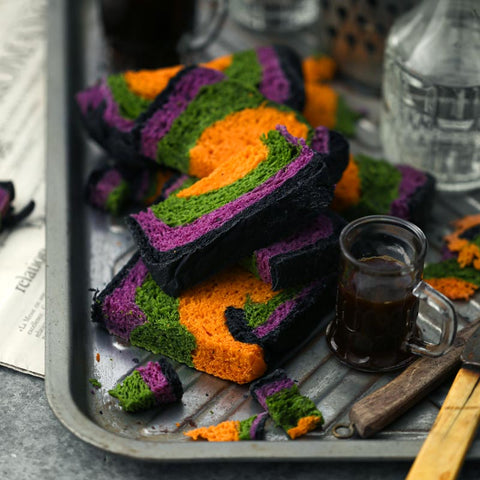 Directions
1. Add yeast and sugar to warm water, mix well. Set aside while you prepare other ingredients.
2. Place flour, sugar, salt, olive oil and yeast mixture in the bowl of your stand mixer with a hook attachment.
3. Mix everything on low speed until everything is incorporated. Turn to medium low speed and knead until dough becomes smooth.
4. Transfer dough to an oil bowl. Let it rest for 30 minutes.
5. Mix color powder with water accordingly. Set aside.
6. Divide the dough into 4 equal pcs. Add in one of the color mixtures to one of the doughs. Knead on lightly floured surface by hand until well incorporated. (If your dough is too sticky, add another 1/2 tbsp of flour).
7. Repeat the same process for the other 3 colors. Let them rest for 30 mins on the counter.
8. Roll out each dough on a lightly floured surface into a rectangle shape (about 1.5 cm thick); repeat the step for the other 3 doughs.
9. Brush water on the black rolled out dough; place the purple layer on top; brush water on the purple layer then place the other dough on top of it. Repeat.
10. Gently roll them with light pressure using a rolling pin.
11. Once ready; roll the dough into a log shape; place it in prepared pan. Let it rise for an hour.
12. Preheat oven to 175 degrees Celsius. Brush the top of the bread with milk; bake it for 20-25 minutes. Enjoy!
---