Goldenberry Lemon Chamomile Panna Cotta
If summer was a color, it would be sunshine yellow. That's why these Lemon Goldenberry Chamomile Panna Cottas are so refreshing and perfect for this season! Discover the irresistible possibilities with our Suncore Foods® powders.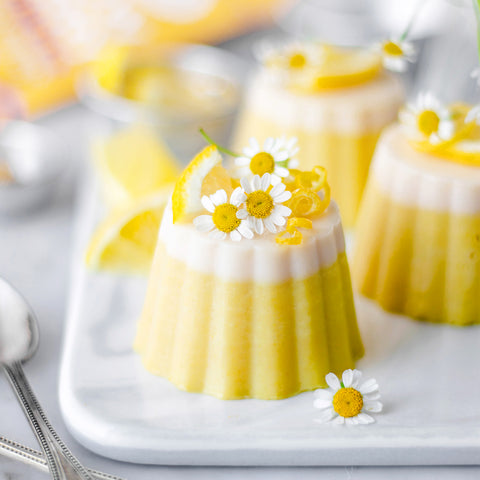 Ingredients
1/3 cup freshly squeezed lemon juice
1 canned full fat coconut milk
1/3 cup maple syrup
2 chamomile tea bags
2 tsp agar agar powder
1/3 tsp safflower powder
1 tsp Suncore Foods® Yellow Goldenberry Powder
Directions
1. Place coconut milk in a saucepan over medium heat and bring to a simmer. Turn off the heat then add tea bags and leave to brew, covered, for 15 minutes. Remove the teabags and squeeze out all the liquid.
2. Pour the chamomile milk mixture into a small saucepan, bring to the boil. Whisk in agar. Whisk until agar is dissolved. Then add in lemon juice, maple syrup, whisking constantly. Allow to boil for approximately 30 seconds. Spoon 1-2 tbsp of the mixture into each mold. Place molds in freezer for 15 mins to set. .
3. Add Suncore Foods® Yellow Goldenberry Powder to the remaining mixture and mix to incorporate. Gently pouring mixture over the top of the set panna cotta. Transfer molds to the fridge and leave to solidify.
---