Golden Pumpkin & Autumnal Baked Sweet Potato Yam Dinner Rolls
Fall is absolutely our favorite season and these buttery dinner rolls will elevate your Thanksgiving with the sweetest autumn vibes & it is a fall MUST! Easy to make and your house will smell amazing while it's baking! Light & fluffy. Great for holiday giving and or to enjoy with a heavenly slathering of butter or drizzle of honey. These Golden Pumpkin & Autumnal Baked Sweet Potato Yam Dinner Rolls are packed with fall pumpkin goodness and the best part, Suncore Foods® Powders (Autumnal Baked Sweet Potato Yam, Red Beet, and Yellow Goldenberry) to achieve the lovely colors and flavors every bite. Trust us, everyone will adore them and they will disappear so fast!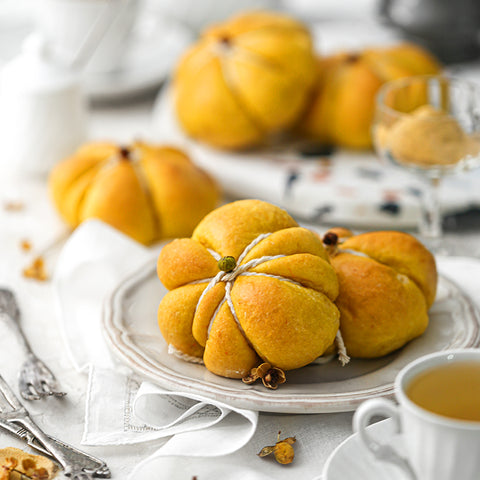 Directions
1. Place all ingredients in a stand mixer bowl (except butter) with a hook attachment.
2. Knead mixture on low speed until mixture is well incorporated. Then add in the butter. Contribute to knead on low speed until dough becomes smooth.
3. Transfer the dough to an oiled bowl. Let it proof on the counter for an hour.
4. Divide dough into 6 equal sized pieces.
5. Take one piece of the dough; cover the others with cling/saran wrap.
6. Knead the dough into a ball foam; slightly flatten.
7. Once ready; tie kitchen string around the bread to form pumpkin shape (Just like tying ribbon around a gift box).
8. Let them rest for 30 mins. Meantime, preheat oven to 175 degrees Celsius.
9. Bake the bread for 13-15 mins until golden brown. Enjoy!
---