Goji Berry Jam Filled Aebleskivers
Soft & fluffy goldenlicious pastries plus flavorful sweet jam, how could it get better than this? These Goji Berry Jam filled Aebleskivers are so good to pair with a cup of coffee or your favorite tea! Added Suncore Foods® Red Beet Powder and Suncore Foods® Goji Berries into the jam to get that sweet, vibrant goodness. We definitely want this entire platter!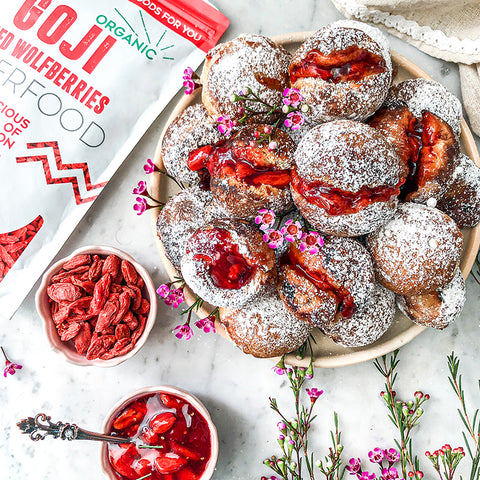 Ingredients
Aebleskivers: 
2 cup soymilk + 2 tsp of lemon juice, mixed and set aside (vegan buttermilk)
2 cup whole wheat pastry flour
1/2 tsp ground flax meal
2 tsp baking powder
1/2 tsp baking soda
1/2 tsp salt
4 tsp of caster sugar or coconut sugar
4 tsp of melted vegan butter or coconut oil
1 tsp pure vanilla extract
2-3 tbsp of neutral vegetable oil or some vegetable spray for your aebleskiver pan
Red Goji Berry Jam: 
½ cup orange juice
1½ tbsp lemon juice
Zest from one lemon
¼ cup Suncore Foods® Goji Berries
3 tbsp Suncore Foods® Red Beet Powder
1 tsp agar agar powder
Directions
1. Preheat your aebelskiver pan over a medium heat.
2. Meanwhile mix all the above ingredients in blender. Set aside.
3. Brush the heated aebelskiver pan cups. Pour 1 tablespoon of batter in each cup. Cook each one on one side until it's golden brown, then using two chopsticks slowly flip the aebelskiver to the other side. Keep the cooked aebelskivers in a heated over so they stay crispy. Serve them with Goji berry Jam.
4. Goji Berry Jam – In a small bowl or cup' mix all the ingredients together. Pour into a saucepan and gently bring to a boil' simmering for about one minute. If a smoother jam is desired' blend the mixture in a blender for a moment to break the berries into large chunks' or simply leave as whole berries. Will keep in a sealed jar for about 2 weeks. Keep the jam in the fridge
---