Emerald Pandan Leaf & Matcha Chocolate Hearts
If you love green tea sweets, this will be an ultimate treat for you and the perfect holiday gift made with only 5-ingredient! Bright, beautiful vivid green earthy hue dessert with benefits, what's not to love in that equation? This is the best dessert ever! Made with white chocolate and dusted with Japanese Suncore Foods® Midori Jade Matcha Powder blended with Suncore Foods® Emerald Pandan Leaf Powder, this decadent Emerald Pandan Matcha Green Tea Chocolate is simply irresistible. It's rich with truffle-like texture and the right touch of sweetness. The taste of pandan & matcha is a perfect delicious love affair – not too overpowering and the color is spot on! Vegan, plant-based, no dairy, so easy and quick to make to 100% impress all of your friends and family!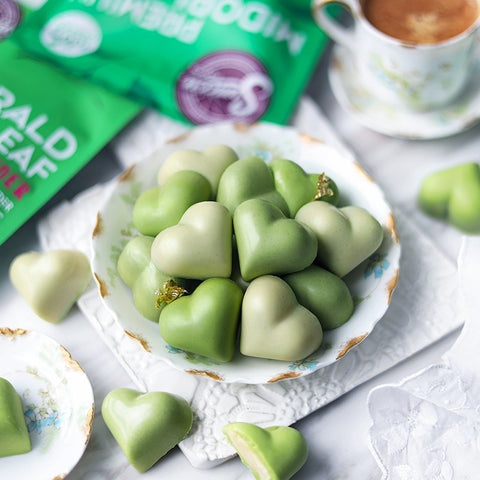 Directions
1. Filling — Melt chocolate with coconut oil. Once chocolate has melted, add coconut whipping cream and mix to combine. Allow mixture to cool completely.
2. Chocolate — Combine melted chocolate with matcha powder. Fill the mould with chocolate. Tap the mould to eliminate air bubbles. Turn the mould upside down onto a sheet of baking paper and tap with the handle of the scraper. Once all the excess chocolate has been tapped out, scrape the mould while it is still upside down. Ensure the top surface of the mold is scraped clean. Place the mold on its side until it sets.
3. Pipe the fillings over the set chocolate sells. And let it set at room temperature before sealing. When the ganache is set. Seal the mould with chocolate.
4. Allow to set at room temperature for 10 mins and then place in the fridge for 20 mins.
---