Emerald Pandan Leaf Clover Leaf Shamrock Steamed Buns
Need something warm and filling? We are absolutely in love with these adorable Emerald Pandan Leaf Clover Steamed Buns! This calming and earthy color is achieved by Suncore Foods® Emerald Pandan Leaf Powder! The most fabulous fun way to celebrate St. Patty's Day! They are light, slightly sweet conveyors of all types of fillings. These buns are blank canvas for whatever you'd like to fill them with, something sweet, something savory, something spicy or a little bit of all the above. Come visit our online store SuncoreFoods.com and fill them with your own pot of gold taste!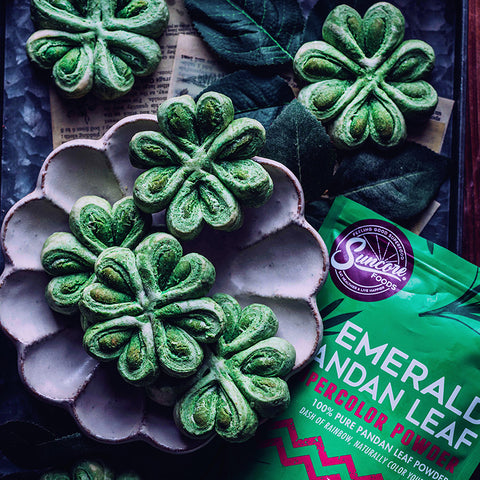 Directions
1. Make the Filling — Cook through the beans with water in a pot. And drain the water. Blend the beans to puree. Add the bean puree and sugar to a large pan over low heat, constantly flipping the paste over, until the paste no longer sticks to your finger when touched. Add the Panda leaf and mix well.
2. Make the Dough — Preheat the oven to 330 F. Add the water dough ingredients in a bowl, knead the dough until it becomes smooth. Cover it with a plastic wrap and let it rest for 30 minutes. Follow the same process for the oil dough. Divide the water and oil doughs to 8 pieces each. Roll out the water dough (white) to a flat disk.
3. Wrap the water dough (white) with oil dough (green) inside.
4. Use a rolling pin to roll this dough into a flat oval shape. Take one edge and roll it up like jelly roll style. Let it rest for 15 minutes and then repeat the same process one more time.
5. Roll out the mixed dough to a flat disk and place the bean filling (20g/each) on top. Gently take the edges to wrap the filling.
6. Flat the dough using hand and cut it into 8 equal strips without cutting through the center. Using two hands, pick up two adjacent strips and twist them so that the filling side is facing up.
7. Bake for 30 minutes.
⁣
---