Emerald Pandan Coconut Kuih Dadar
Wrapped in a cozy green blanket, this Emerald Pandan Kuih Dadar encloses a tasty coconut filling! These little rolls have so much flavor and are such delicious little treats. The beautiful green outside is a rolled crepe, getting its flavor and color from Suncore Foods® Emerald Pandan Leaf Powder, and packed with coconut flavor on the inside! This combo is so good and definitely has our taste buds satisfied. Have you ever tried Kuih Dadar before? If not, this is they perfect time to try it out! Let us know what you think!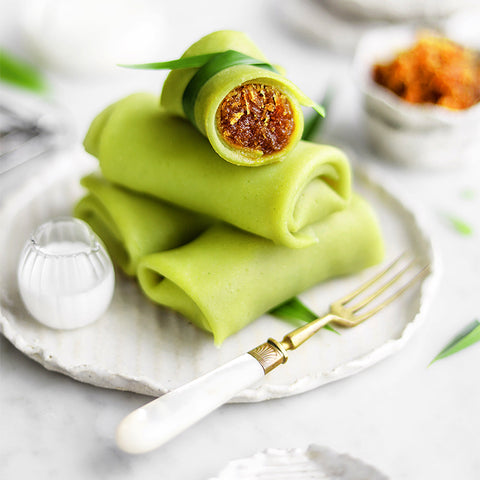 Ingredients
Makes 12 Servings

Crepes:
1 cup water
2 pandan leaves
1/2 cup regular or gluten free all purpose flour
1 tsp tapioca flour
1/4 cup coconut milk
1 tbsp coconut oil
3 tsp Suncore Foods® Emerald Pandan Leaf Powder
1/4 tsp salt

Filling:
1 1/4 cups freshly grated coconut
1/4 cup water
2 pandan leaves, knotted
100g gula melaka or coconut sugar
Directions
1. Filling – Oil the water with gula melaka and pandan leaves. Lower the heat and simmer until all the sugar has melted. And coconut and stir until all the coconut has been coated with the sugar and is relatively dry and not much moisture left. let it cool and place in the fridge until needed.
2. Crepes – Blend the Pandan leaves with water and strain the Pandan juice, set aside. In a large bowl combine the flour, tapioca flour, Suncore Foods® Emerald Pandan Leaf Powder and salt. Gradually add the Pandan juice and coconut milk. Stir well until no lumps. Then add the oil whisk until smooth.
3. Heat a pan over medium-low heat. Grease the pan. Remove pan from heat. Pour 1/3 cup of batter in the pan and swirl the pan around to evenly coat the bottom with the batter. Cover with a lid and cook for 1 min. Remove the lid and let the crepe to cook for a further minute. Then loosen with a spatula and flip. Cook for 20 secs on the other side. Let cool completely.
4. Assemble – Place a pandan crepe on clean work surface. Take about 1-2 tsp of filling, place it in the center of the crepe. Roll up the crepe, fold in the sides to enclose the filling. Place seam side down.
---