Ebony Carrot Sparkly Passion Fruit Cheesecake
We've got them Friday feels and we're feelin' this cheesecake. We are definitely craving a slice. Beautiful toppings, beautiful colors, and it sparkles. This Ebony Carrot Sparkly Passion Fruit Cheesecake is definitely our kind of treat!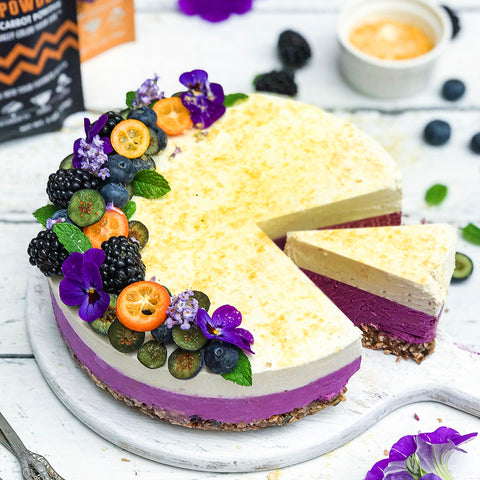 Directions
1. Preheat oven to 180 celsius. Grease a tart pan. Set aside.
In a food processor, combine crust ingredients and pulse to combined. You should get a moist mixture than can be easily moulded. Firmly press into bottom and up the sides of tart tin. Bake for 20-25 mins until crust is golden brown. Transfer to a wire rack and let it cool while you're preparing the filling.

2. Blend both fillings smooth and creamy. Strain it through a fine mesh sieve. Allow mixture to cool for 5 minutes.
3. Pour the mixture into cooled tart. Place tart in the fridge to set, about 4 hours or overnight. Garnish tart as desired with fruits and enjoy!
---