Easter Biscuits
A delicious change from chocolate to this sweet Easter Biscuits baking! The perfect treat that the whole family can make and enjoy together will surely bound to put a happy hop in your steps. Colored using Suncore Foods® Powders. Get creative this Easter with endless possibilities of colors by visiting our online store at SuncoreFoods.com and and check out our extraordinary selections of Suncore Foods® Powders to create your own egg-cellent decorated fun treat, let's get cracking on the recipe!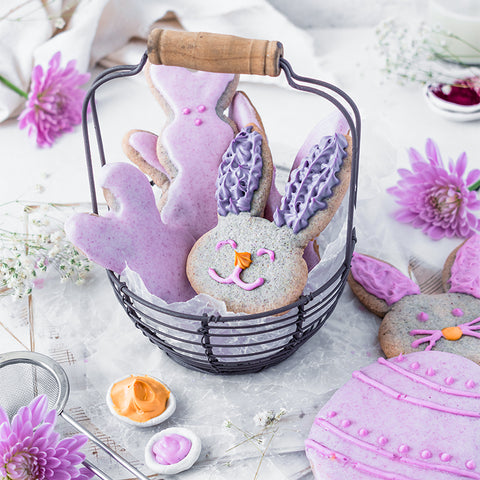 Directions
1. Dry Ingredients — Combine flour, cardamom, salt, baking powder, baking soda and Suncore Foods® Purple Sweet Potato Powder and set aside.
2. Arrowroot Eggs — In a small bowl, whisk arrowroot starch and water. mix well and set aside for 5 minutes, stirring every 2 minutes.
3. Cream together butter and sugar until fluffy. Mix in vanilla extract and arrowroot eggs until well combined. Fold in dry ingredients until the dough starts to come together. Using your clean hands, gently knead the dough for a few seconds and form a ball. The dough should be soft but not sticky. If your dough is too sticky add some more flour, 1 tbs at a time. Place the dough ball in a clean bowl, cover and refrigerate for minimum 1 hour up to overnight.
4. When ready to bake, preheat oven to 350 deg. F and line a baking tray with parchment paper. On a clean surface, separate the dough into two portions and using a rolling pin, roll out one portion to approximately ¼ - ½ inch thickness (or as per preference). Using cookie cutters, cut the cookies and place them on the baking tray. Repeat the same process for the remaining dough. Bake for 20 minutes until the sides are brown and crispy. Allow cookies to cool completely before icing them.
5. Icing —Beat or blend on low icing ingredients except Suncore Foods® Powder until thick and to the desired consistency. Separate icing into 4 portions and beat/blend in 1 Suncore Foods® Powder per portion. Decorate cookies as per preference. Allow them to dry completely before serving.⁣
⁣
---