Double Dreamy Blues Sparkly Gem Chocolates
These Sparkly Gem Chocolates will be the hit of the party and will satisfy every chocolate lover! Incredibly enchanting ocean blue. All simple. Incorporated two of our Powders — Suncore Foods® Aqua Blue Spirulina & Blue Butterfly Pea to create the magical blue color that we are all in love with. These mouthwatering gem chocolates are the kind of grown up "playing with food" we wholeheartedly approve of.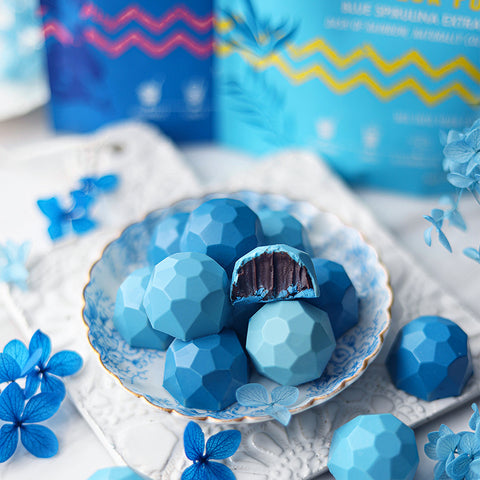 Directions
1. Ganache – Heat the coconut milk in a saucepan. Pour the hot cream over the dark chocolate, add in vanilla, instant coffee powder and mix until smooth. Place plastic wrap over it so it is touching the surface of the ganache or place it directly into a disposable piping bag. Place ganache in the fridge until needed.

2. Chocolate — Combine melted chocolate with Suncore Foods® Powders. Fill the mould with chocolate. Tap the mould to eliminate air bubbles. Turn the mould upside down onto a sheet of baking paper and tap with the handle of the scraper. Once all the excess chocolate has been tapped out, scrape the mould while it is still upside down. Ensure the top surface of the mold is scraped clean. Place the mold on its side until it sets.

3. Pipe the ganache into the mould. And let it set at room temperature before sealing. When the ganache is set. Seal the mould with chocolate.

4. Allow to set at room temperature for 10mins and then place in the fridge for 20 mins.
---