Cute Madeleine Burger
Shhh, can you keep a secret? This utterly lovely burger is madeleine in disguise! They are so fun and absolutely adorable, this burger will make your little ones jump with excitement. Incorporated Suncore Foods® Aqua Blue Spirulina, Midori Jade Matcha, Red Beet, Red Ruby Radish, and Yellow Goldenberry Powders to create this joyful and vibrant burger. This sweet dessert will be the spotlight for your youngster's party or celebration.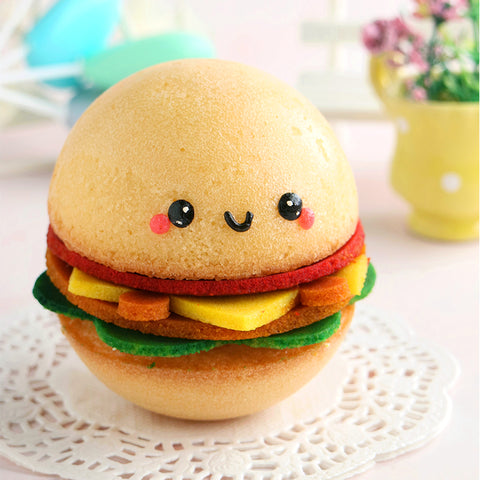 Directions
1. Beat eggs with sugar till pale and fluffy. Beat in vanilla. Fold sifted flour, baking powder and salt into creamed eggs. Fold in melted butter. Refrigerate batter for 1 hr covered. Fill ½ of the batter into two 3" cake pop molds. Bake at 175 C for 10 min.
2. Divide the rest of the batter into 4 and mix in respective Suncore Foods® Powders (red, yellow, green – using mix of yellow and blue) and cocoa powder. Pour into 6" lined tray and bake for 8 min.
3. Cut out various shapes using cookie cutters from the sheet cake for the fillings. Assemble the burger madeleine by stacking the layers. Enjoy!
---