Cranberry Spice Muffins
The holiday spirit hasn't left us, and we're keeping it that way with these delectable Cranberry Spice Muffins! Cinnamon, cloves, nutmeg, and all spice are wafting through our kitchens and igniting our festive cheer this morning, and we couldn't be happier. These fluffy and super tender muffins colored with Suncore Foods® Red Beet and Cosmos Red Cabbage Powders are chock full of juicy cranberries to give them a burst of tangy sweetness and amazing festive winter vibes. And added even more deliciousness with Suncore Foods® Snow Quinoa Flakes. We surely would happily celebrate any time and any day of the week with a plate of these cranberry muffins.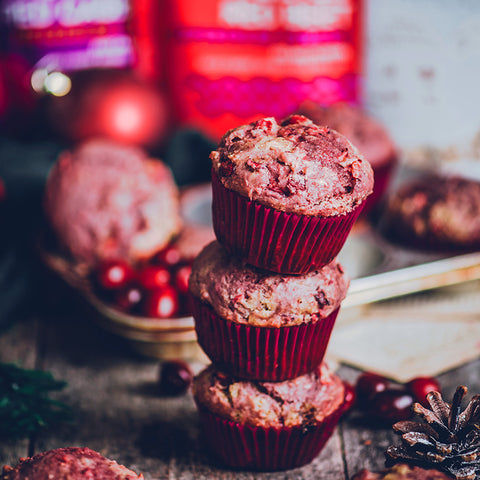 Directions
1. Preheat oven to 425 degrees Fahrenheit and line a 12 hole muffin tin in every other hole so you only have 6 lined (like a checker board).
2. In a large bowl, add all your dry ingredients together (except for the Suncore Foods® Powders) and whisk together and set aside.
3. In another bowl, add your eggs and butter and mix with a hand mixer until softened.
4. Add in your remaining wet ingredients plus the orange zest and mix together (will be a thick mixture).
5. Slowly add in your dry ingredients and fold with a wooden spoon.
6. After you have folded in all the ingredients together, fold in your cranberries.
7. Take half your batter and put into a separate bowl, and mix your Suncore Foods® Powders to that mixture, mix with hand mixer.
8. Add the color mix to your non-color mix and *gently* fold two or three times so it just creates a swirl.
9. With an ice cream scoop, take your batter and scoop into your muffin tin.
10. Bake at 425 for 5 min then lower to 350 for 13-15 minutes.
---