Christmas Tree Macarons with Pandan Buttercream Filling
Santa's little helper deserves a treat too! These fun and ADORABLE Christmas Tree Macarons will make your little as excited as Christmas morning. By using our Suncore Foods® Midori Jade Matcha and Emerald Pandan Leaf Powders, these macarons will not only look cheerful, festive but also delicious and filled with clean . Don't be hesitant to try these fun and straightforward recipe. Let's bring your little elves to the kitchen and start baking, we are sure you will have a good time creating these lovable Macarons.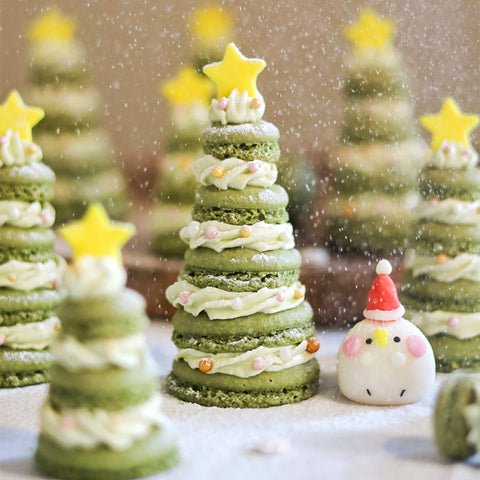 Directions
1. Shells — Sift almond flour and icing sugar into a bowl. Add egg whites into a clean bowl. Beat until foamy, add cream of tartar. Gradually add caster sugar until soft peaks form. Add vanilla extract and Suncore Foods® Midori Jade Matcha Powder, beat until stiff. Fold in half of the dry ingredients. Gently fold in the remaining dry ingredients, fold until it reaches ribbon stage. Pipe out 2.2cm, 2.7cm, 3.5cm and 4.3cm circles. Tap on the counter to release air bubbles. Allow to sit for around 45 mins or until the surface is dry. Preheat the oven to 140°C/ 284°F. Bake for 12-16 mins, allow longer time for bigger macarons. Let them cool down completely before removing them from the parchment paper.
2. Buttercream — In a large bowl, add unsalted butter, beat until smooth and light. Add icing sugar, Suncore Foods® Emerald Pandan Leaf Powder, milk, and vanilla extract, beat until light and fluffy.
3. Assembly — Transfer the filling into a piping bag fitted with a star tip. Pipe filling on the top of the macarons and assemble the Christmas tree. Decorate with colorful sprinkles.
---