Chocolate Mocha Cacao Hemp Donuts
Ohhhh protein never looked this divine! Who is drooling over these life changing Chocolate Mocha Cacao Hemp Donuts with us? They're fluffy and boosted with delightfully delicious goodnesses, gluten-free and dairy-free too!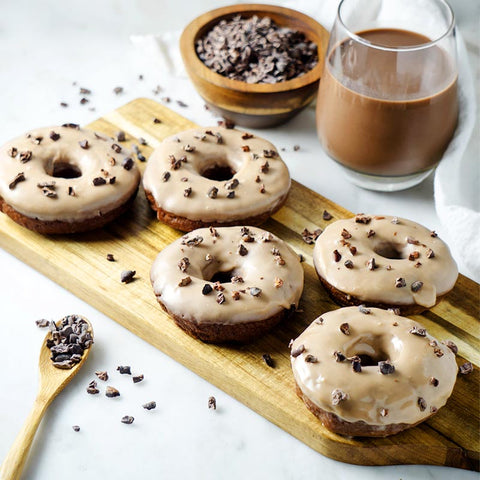 Ingredients
Donuts:
1 pack of protein powder of choice
1/2 cup of warm water
1 tsp of yeast
1 3/4 cup of flour
2 tsp of vital wheat gluten
1 tbsp of flax meal
1/3 cup of sugar
3 tbsp of coconut oil
1/2 tsp of vanilla extract
A handful of Suncore Foods® Cacao Nibs
A handful of Suncore Foods® Hemp Seeds
Oil for frying

Icing
2 1/2 cups of powdered sugar
3 tbsp + 1 tsp of coffee
Directions
1. Combine the warm water and yeast in a large bowl. Whisk and give 5 minutes for yeast to activate.
2. Combine flour, vital wheat gluten, and protein powder into a separate bowl.
3. In the yeast bowl add flax meal, sugar, Suncore Foods® Cacao Nibs, Suncore Foods® Hemp Seeds, coconut oil, and vanilla. Whisk until combined.
4. Add flour into yeast bowl a quarter cup at a time. Once dough starts to form add less flour. Add only enough flour to form a soft dough that is slightly sticky (you might have some flour leftover). Knead until dough is smooth.
5. Cover bowl and allow to rise for 1 hour in a dry warm space. Once dough has doubled in size roll out onto a floured surface and cut out donuts (or form with hand). Place donuts onto a lightly floured baking sheet cover and place back in a dry warm place and give another hour to raise.
6. In a large pan add oil and give a depth to cover donuts when added. Heat oil to 375º F and add donuts. Fry until golden.
---