Blue Spirulina Cream Chocolate Covered Almond Cookies
These Chocolate Covered Almond Cookies with Suncore Foods® Aqua Blue Spirulina Coconut Cream are the perfect trifecta: Chocolately goodness on the outside, blue-tiful cream on the inside, and tasty all-in-all. A decadently rich sweet treat to satisfy your sweet tooth and this Friday vibes. So so yummy!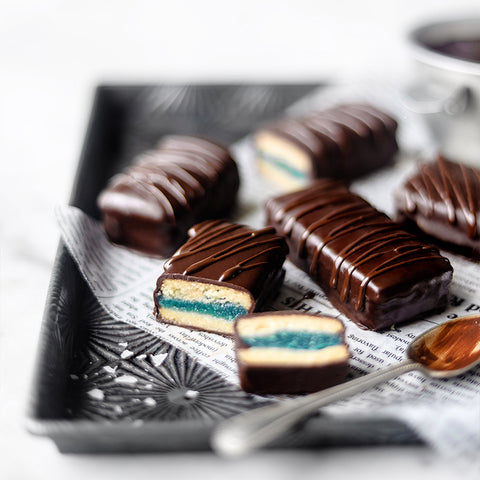 Ingredients
Almond Shortbread:
3/4 cup almond flour
1/2 cup gluten-free flour
1/4 cup coconut oil
1/8 cup rice malt syrup
1/4 tsp salt

Filling:
1/2 cup cashew nuts
1/3 cup coconut butter
2 tbsp rice malt syrup
2 tbsp coconut milk
1/2 tsp vanilla bean extract
1/4 tsp Suncore Foods® Aqua Blue Spirulina Powder

Coating:
200g dark chocolate, melted
2 tbsp coconut oil
Directions
1. Preheat your oven to 180 celsius. In a large bowl, combine almond flour, gluten-free flour, coconut oil, rice malt syrup and salt, mix until well combined. Cover the bowl and refrigerate for 10 minutes.
2. Roll out the dough into a rectangular shape. Use a sharp knife to cut out rectangles about 1 1/2 inches wide by 2 1/2 inches long. Lay cookies on prepared baking sheets and bake for approximately 15 minutes or until the edges are lightly golden brown. Let cool completely before assembling.
4. To Make the filling — In a food processor, add cashew nuts and process until grounded, then add the coconut butter, coconut milk, rice malt syrup, Suncore Foods® Aqua Blue Spirulina Powder, and vanilla. Process until smooth and creamy. Spread filling onto half of the cookies (on the bottom side). Top with the remaining cookies, then place in the freezer to chill. Add coconut into melted chocolate, stir gently until smooth. Take a chilled cookie bar and carefully coat it in the chocolate, then put it on a lined baking tray. Place the tray in the refrigerator for 5-10 minutes until set. Enjoy! 
---