Chai Cacao Nibs Donuts with Maple Glaze
Grab a warm cup of coffee and get cozy while having these delicious Chia Cacao Nibs Donuts topped with a luscious Maple Glaze! You donut know how much we are in love with these vegan-friendly donuts filled with fantastic chia flavors, topped with a sweet glaze that we can't stop thinking about! Incorporated our Suncore Foods® Cacao Nibs to top the donuts with full of fun and amazing crunches!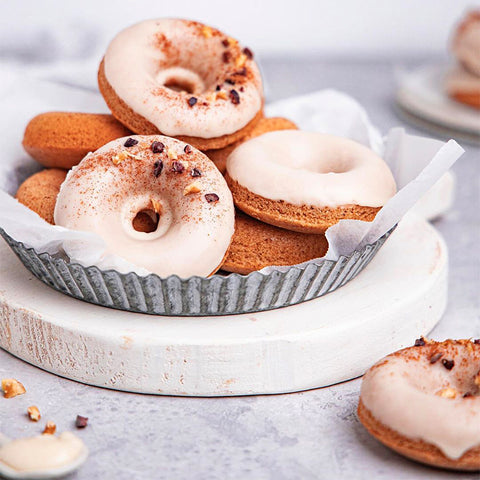 Ingredients
Makes 8 Large Donuts

Dry Ingredients:
1 1/2 (190g) all purpose flour or cake flour
2 tsp baking powder
1/4 tsp salt
2 tsp chai spice
1/2 tsp Suncore Foods® Autumnal Baked Sweet Potato Yam Powder
3/4 cup (150g) light brown sugar

Chai Spice:
2 teaspoons ground cardamom
2 teaspoons ground nutmeg
5 teaspoons ground cinnamon
1 teaspoon ground cloves
4 teaspoons ground ginger
Mix all ingredients together. Store in a small spice container.

Wet Ingredients:
3/4 cup (180ml) soy or almond milk
2 tbsp (40g) unsweetened soy/coconut yogurt
4 tbsp (50g) melted coconut oil or vegan butter, at room temp

Glaze:
1 cup (140g) icing sugar, sifted
1 tbsp pure maple syrup
1 tbsp coconut milk (coconut/ soy or almond)
1 tbsp (15g) vegan butter, melted
Chopped nuts and Suncore Foods® Cacao Nibs to decorate
Directions
1. Preheat the oven to 350°F (180°C). Prepare donut tray by spraying with non-stick spray or grease with little oil. Set aside.
2. Sift the flour, baking powder, chai spice, Suncore Foods® Autumnal Baked Sweet Potato Yam Powder and salt into a mixing bowl and add the sugar.
3. Whisk to combine.
4. Add soy milk, soy yogurt and melted coconut oil and whisk to combine.
5. Transfer the donut batter into a piping bag and pipe it into the donut mold evenly or use a spoon (but it can get messy).
6. Bake for 15 minutes until lightly browned on top.
7. Remove from the oven and let cool for a few minutes before transferring the donuts to a wire cooling rack.
8. Allow to cool completely before glazing.
9. For the glaze, combine all the ingredients in a medium bowl. Dip the donuts into the sugar glaze and then place onto a parchment lined baking tray and decorate with toppings.
---