Candied Rainbow Popcorn
This beautiful colorful Candied Rainbow Popcorn will make your movie night even more fun and exciting! Let's get comfy, put on your favorite movie, and have a bowl of deliciousness. These will be the star of your movie date. Add some splash of fun, delightful colors with Suncore Foods® Cerise Prickly Pear, Yellow Goldenberry, and Purple Sweet Potato Powders. Our day is popping! Try this recipe at SunocreFoods.com and make it colorful with our Suncore Foods® Powders. Nothing is butter than kettle corn.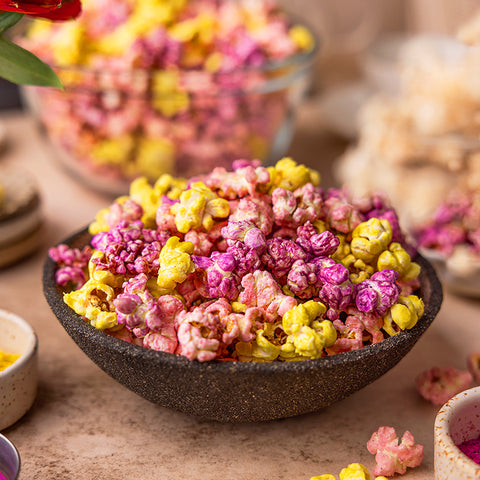 Directions
1. Heat oil in a large pot on medium heat. Once hot, add popping corn kernels and stir to mix well. Add salt and stir, ensuring the kernels are well coated. Shake the pot so the kernels are evenly sitting at the bottom of the pot.
2. Cover the pot and allow the corn to pop. Shake the pot while the corn is popping. Once the popping slows down, but is still continuing, shake the pot again and reduce heat to low till the popping stops.
3. Remove from heat and keep covered for 2 minutes. Remove the lid and stir the popcorn ensuring any salt that may have collected on the bottom of the pot gets mixed in. Separate popcorn into 3 portions and set aside while preparing the sugar syrup.
4. Line a flat surface or baking tray with parchment paper and set aside.
5. Sugar Syrup — Work with 1 Suncore Foods® Powder at a time: In a saucepan, dissolve 1 Suncore Foods® Powder into 115 g of water. Mix in 80 g of sugar and place the saucepan on high heat. Bring to boil and reduce heat to medium or medium-low. Continue to cook, the syrup should bubble aggressively while cooking. Remove from heat as soon as the syrup starts to thicken, the syrup should still be thin and free flowing.
6. Pour syrup over 1 portion of popcorn. Mix well ensuring most of the popcorn is coated. Evenly spread popcorn on the prepared surface or baking tray and allow it to cool completely before serving. The candied coating will harden while the popcorn cools.
7. Repeat step 4 with the other 2 Suncore Foods® Powders.
8. When ready to serve, mix the popcorn together in a large bowl, combining all 3 colors. Optional – sprinkle some additional salt.


---