Butterfly Pea Flowers Latte
Almost too pretty to drink, this Butterfly Pea Latte is a mesmerizing beverage with a balanced earthy flavor that is great with a little added sweetness. The stunning blue comes from steeping Suncore Foods® Butterfly Pea Flowers in water and milk. We all love watching those entrancing photos of milk slowly poured into tea. Combine that with the color changing effects of adding citrus, and you have something special!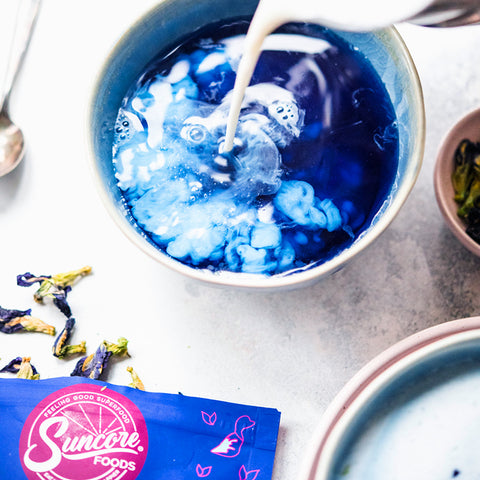 Directions
1. Steep Suncore Foods® Butterfly Pea Flowers in hot water for fifteen minutes. (be transfixed by the gorgeous blue color.)
2. Gently press down on the flowers with the back of a spoon or anything similar to release more flavor and color. Strain mixture through a fine mesh sieve.
3. Pour oat milk into tea. (Be enamored by the swirls and clouds of mixtures of blues.)
4. Enjoy!
---