Butterfly Pea Flower Coconut Sago
This beautiful shade of pastel blue Butterfly Pea Flower Coconut Sago is a light, cozy, and perfect refreshing dessert with any meal or summer entertainment. Saigo is made of little tapioca pearls that give a nice texture to desserts and other foods and drinks. Incorporated Suncore Foods® Butterfly Pea Flowers to create the magical blue color that we are all in love with. Get your spoons ready to dip into this blue-tiful jar of flowers and flavor!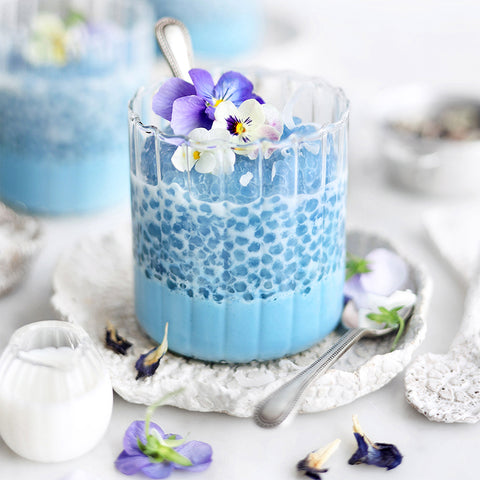 Directions
1. Make an extract with the Suncore Foods® Butterfly Pea Flowers and boiling water. Place the flowers in a heat resistant bowl. Let it soak for 10 mins until the water turns dark blue. Drain well to extract all the liquid. Let cool completely.
2. Soak sago in flower extract for 1 hour.
3. Make the coconut pudding. In a saucepan, bring coconut milk to a boil. Stir in Suncore Foods® Blue Butterfly Pea Powder, agar-agar and stirring constantly until agar completely dissolve. Then lower the heat and add in maple syrup and salt. Let simmer for 1 min. Turn off the heat and allow mixture to cool slightly. Pour mixture into the serving jars. Place jars in the fridge to set.
4. In a large pot, bring about 2 cups water to a boil add the flower extract and soaked sago and cook until its soft and translucent. Drain water in strainer and wash it under running tap water. Transfer sago to bowl, add coconut milk, maple and mix well.
5. To assemble, remove coconut pudding from the fridge, top with sago-milk mixture, and serve. Enjoy!
---